The COVID-19 pandemic has shattered almost every industry, and the health and fitness industry is no exception. At the start of the pandemic, fitness and gym facilities were shutting down their operations at higher rates than other industries, like the food and drinks services industry.
Regardless, there are probably only two ways you'd come out of this health crisis: physically fit or in need of a diet. As such, while the pandemic carries on and with most gyms closed, consider working out at home.
Staying fit and healthy during the COVID-19 pandemic is entirely doable. Here's how to get started with at-home fitness. 
Define Your Fitness Goals
This step is all about figuring out what you want for and from your body. Defining what you're hoping to achieve, such as toning your arms, losing weight, running a 10k, or just staying physically active, will make the next steps of starting your at-home workouts easier.
Set Up the Perfect Home Workout Space
At-home fitness spaces are more convenient and private than gym studios. Not only that, working out at home is more affordable than a gym membership or yoga class. That said, setting up an entire space for exercise is a brilliant idea.
But how much space will you need? Well, it depends on what kind of exercise you plan on doing. For instance, those who love doing yoga will only require a small area to lay a mat. However, those who want to do some heavy lifting will need more space for the equipment. 
For premium comfort and safety, find an area that provides at least 36 feet of open space, allowing you to move your arms side to side and extend them fully. According to the American Council on Exercise, the following types of equipment requires the following amount of space:
Treadmill = 30ft²
Stationary bike = 10ft²
Stair climber = 10-20ft²
Single-station gym = 35ft²
Rowing machine = 20ft²
Multi-station gym = 50-200ft²
Free weighs = 20-50ft²
Elliptical trainer = 30ft²
But if you don't have enough space, make sure that there isn't anything in your way that might hurt you as you're moving.
Alternatively, consider the spaces inside your home that are used less frequently and might have usable features. For instance, the space under the stairs can be large enough to perform calisthenics exercises. Or, you can use the stairs to do some cardio exercises such as step joggers and step-ups.
Moreover, many people use a living room or bedroom as their personal workout space purely because it's the only space available. Since these rooms are likely to have a TV display, you can stream a yoga session or Zumba class.
If there isn't any space inside your house, think about the spaces outside your home. For example, a small balcony or deck can offer an ideal outdoor workout space, especially if the weather goes along with your fitness plan.
Additionally, maybe you can empty an area in your garage and turn it into a home gym.
Choose Your Workout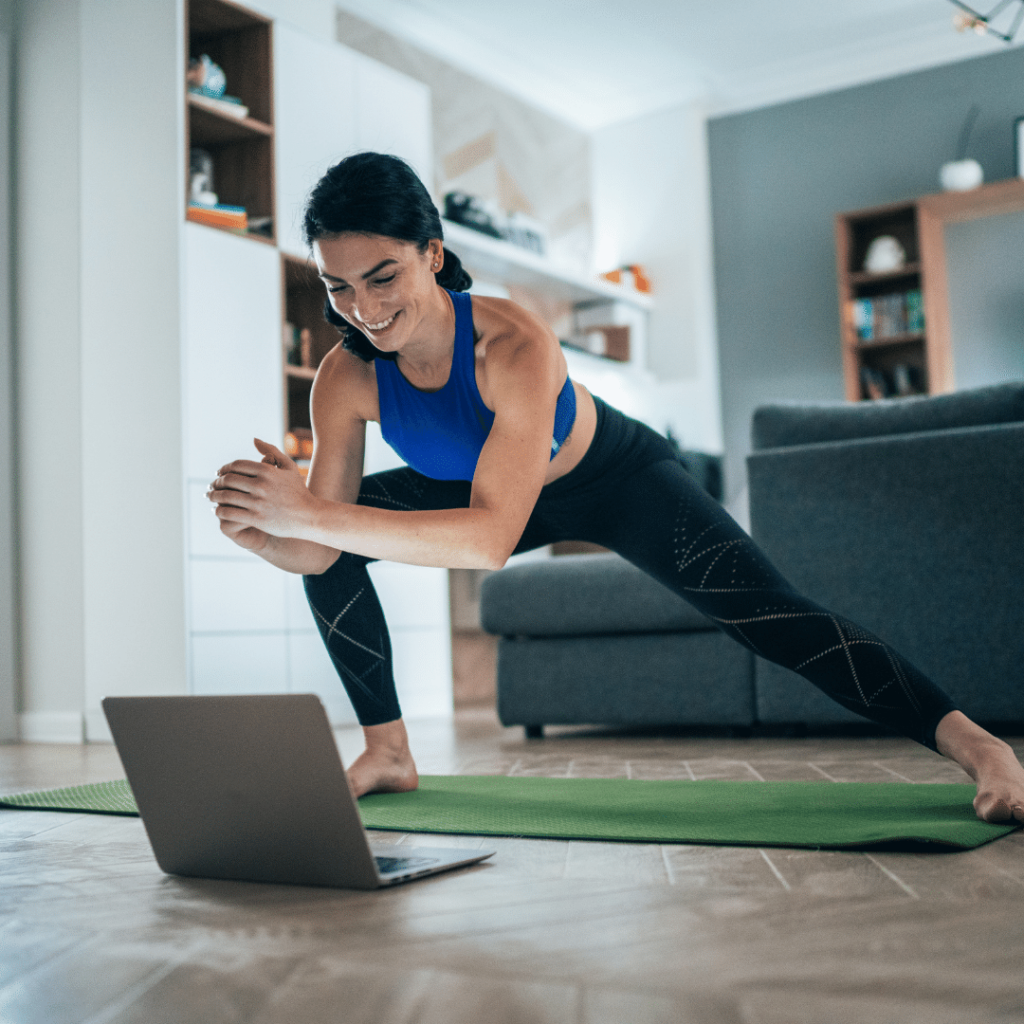 So that you can work out consistently at home, it's crucial to find an exercise you like to do. However, if you are still unsure what workout routine you'd like to do, below are a variety of exercises you can do at home that will surely get your heart rate up.
Free Home Workout Videos and Apps
The quickest way to start a workout routine is via a coach-led exercise video. Pre-recorded or live videos are usually 25-45 minutes long. What's more, they often require little to no workout equipment.
These workout videos may also require a membership or subscription fee. However, many services offer them free or as an extended trial, while the pandemic leaves you trapped at home.
The following are a few at-home workout apps with pre-recorded and live videos:
Amazon. When you are an Amazon Prime Video member, you can access a myriad of workout videos such as cardio and Zumba programs. All you need to do is open your Prime Video app and search for exercises. Make sure to tick the "Prime" box to see what videos are available for streaming.
Blogilates. The website and Youtube channel called Blogilates, created by Cassey Ho, continue to provide many pilates-style toning classes. The fitness guru also formulated a 14-day quarantine exercise plan in response to the pandemic. 
Peloton. Peloton, a workout app, offers a 30-day free trial, but normally it's $13 per month. The app provides high-quality, simple workout videos, including boot camp classes, cardio, meditation, and yoga. Peloton also offers audio-only classes.
Basic Workout Equipment
A lot of workout Youtube channels and apps require little to no equipment. However, if you want to boost your efficacy or build strength, several basic pieces of equipment can undoubtedly make a significant difference.
Here's a list of affordable equipment that works best for the type of exercise you will be doing.
Yoga Block. This workout equipment offers additional support during flexibility exercises, especially for those who are starting out. Yoga blocks are must-haves for doing yoga as they help maintain high density for balance.
Jump Rope. A jump rope is a piece of essential equipment for getting a quick cardio workout or warming up.
Yoga Mat. There are a lot of available mats out there, and the yoga mat you select will largely depend on your chosen form of exercise. Plus, you have to consider the type of floor you are working with. For example, higher-density yoga mats work best for carpeted floors and bodyweight exercises.
Dumbbells. For a home workout routine, dumbbells are a must-have.
Mirror. A mirror is not only for viewing yourself but for guaranteeing excellent form while you perform different workouts.
Basic Foam Roller. Foam rollers might seem too simple, but they are must-haves for a perfect at-home workout setting. Choose a foam roller that's firm and durable enough to target soreness in the back, neck, legs, and shoulders. Moreover, use a foam roller before and after a high-impact or low-impact workout. Also, you can use it with other equipment, including ankle weights and a stability ball.
Bigger Equipment
Even before the pandemic hit, some people had already been thinking of setting up a home gym that includes more than the basics. Today's at-home gym equipment, such as treadmills, can imitate the gym experience with progress-tracking, live-streaming classes, and compatible devices.
The following are some bigger home gym investments that'll help you stay fit.
Rowing Machine. Rowing is an excellent way to get an efficient cardio workout without the impact of exercises such as high-intensity interval training or running. Unlike stationary bikes or treadmills, rowing machines provide a workout that hits all muscle groups in one session, including the chest, arms, shoulders, and back.
Treadmill. The modern-day treadmill comes with a screen display, allowing you to track your progress and stream workouts. What's more, you can pair apps like Peloton with a treadmill machine to make your workout more fun and enjoyable. Make sure to choose a treadmill with excellent build and quality.
Indoor Bike. Indoor bicycle is probably the best quarantine companion. One of the best indoor bikes available today is Peloton's indoor bicycle. Peloton's indoor bike is a great option for cycling enthusiasts with its varied class durations, fun workout classes, and small footprint. In addition, the exercise equipment company now offers a 30-day free trial, allowing you to experience the bike first before committing to the price tag.
Make A Schedule
Now that you work out at home, you may find yourself putting off your workouts for other reasons. And soon enough, you may end up skipping your exercises altogether. The best solution to this dilemma is to establish a consistent schedule and stick to it as if your life depends on it.
Scheduling your exercises will help you better stick to your workout routine. And since your workouts exist according to your plan, you have no reason to put off your exercises anymore.
Keep in mind that consistency is crucial to seeing good results. As a result of performing regular exercises, your body will build up stamina, endurance, and strength over time. Additionally, to determine the best way to add your workouts into your everyday routine, ask yourself the following questions:
Are you a morning person?
Will you be exercising alone or with a partner?
How much time do you want to commit to your exercises?
Do you have a workout plan, or do you need some guidance?
How sweaty do you want to get?
Takeaway
It can be tricky to stay motivated for at-home workouts. Even if they are very hassle-free, you can get easily distracted with other tasks in your house. As a result, you might choose to postpone or put off the workout indefinitely.
To keep your workout plan at home possible, be sure to set specific short-term and long-term goals, dress for success, set the alarm, and consider planning a workout challenge with colleagues or friends. Finally, keep a workout log to document your success and address challenges.