One-a-day multivitamins offer a convenient and affordable solution for men over 50. These options will cover the basics, but they can't be personalized to meet specific health goals.
The Top 4 Multivitamins for Men Over 50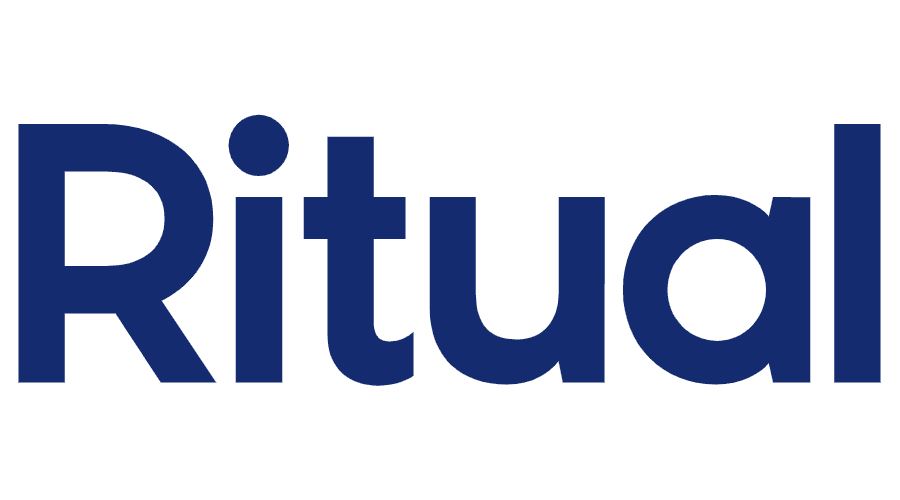 ABOUT RITUAL ESSENTIAL FOR MEN 50+
Ritual is well respected with the health and wellness crowd for their simple and effective formulas that are free of unnecessary additives and ingredients. Their products are vegan-friendly, non-GMO, gluten-free, and formulated without the dyes and fillers frequently found in other vitamin formulas.
Ritual's Essential for Men 50+ keeps with this theme of simplicity by providing only the 10 essential nutrients necessary to fill in the gaps in your diet. Nothing more, nothing less. And, every ingredient is of the highest quality in the most bioavailable form, including Omega-3s, D3, Magnesium, and K2.
Ritual's delayed release, minty capsules are easy on the stomach, too. We found no surprises or hidden fees with Ritual. When you subscribe, a 30-day supply of Essential for Men 50+ is delivered right to your door each month. There's no charge for shipping, and you can pause or cancel at any time.
PROS
Third-party tested for heavy metals, allergens, and other contaminants.
Truly hassle free, all you have to do is subscribe and remember to take two pills each day.
Very affordable (about $1 a day), especially for a product of such high quality.
CONS
Subscription model not ideal for everyone.
Formula is not personalized/customizable.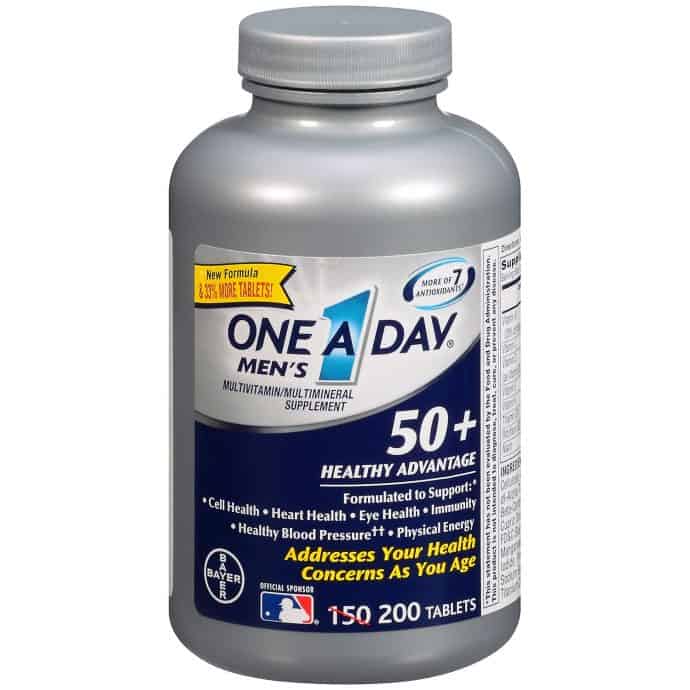 ABOUT ONE A DAY MEN'S 50+
One A Day Men's 50+ is another affordable option worth considering. One A Day has been providing specially formulated vitamins for over 75 years. While their Men's 50+ formula can't be customized to meet your specific needs, but it has been created with the unique nutritional needs of men over 50 in mind.
Although this isn't the most complete formula out there, it does include the antioxidants needed for cellular and memory support. They've also included plenty of B-vitamins for energy. It's an age-specific formula that's been specifically designed to support eye and heart health, too. Critical nutrients like Vitamin K and Zinc are included to help keep the immune system strong.
One A Day Men's 50+ is meant to be a complete multivitamin formula, so you only need to take one pill each day. This product can be purchased in a 175-count bottle that will last several months. It's a very basic, affordable, and convenient option for men in their 50s who simply want to fill in a few vital nutritional gaps in their diet.
PROS
Doctor Recommended
Affordable
1 pill/day
CONS
Confusing dosage count
Potency of vitamins are questionable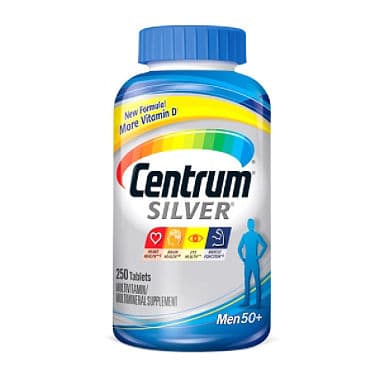 ABOUT CENTRUM SILVER MULTIVITAMIN
Centrum has been a trusted leader in the vitamin industry for years. Although Centrum Silver comes preformulated and is not customizable, it does include most of the essential nutrients for men over 50. This multivitamin is recommended by doctors and pharmacists, so you know it's pretty reliable. If convenience is a top priority, this might be the brand for you.
We appreciate that this product includes increased levels of Vitamin D3 to support muscle and bone health. The formula has also been adjusted to support eye, brain, and heart health in men over 50. This product also includes lycopene for a healthy prostate. The company has also included nutrient to boost your energy levels, immune system, and your metabolism.
Centrum Silver vitamins are non-GMO and gluten-free. They are affordably priced, and you get 200, easy to swallow tablets per bottle. This multivitamin, the multimineral formula is convenient for travel and for those who have a hectic lifestyle since you only need to take one pill each day.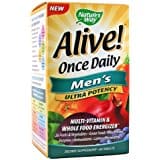 ABOUT ALIVE! ONCE DAILY MEN'S
Alive has an excellent reputation for providing high-potency, nutritionally diverse multi-vitamins. Their Once Daily Men's 50+ formula contains 100% or more of the daily recommended value of 19 vitamins and minerals. This is a balanced formula that meets many of the nutritional requirements specific to men over 50.
One of the most unique things about the Alive! Once Daily Men's 50+ formula is that they've included a food-based Orchard Fruits, Daily Greens, and Garden Veggies Blend to provide trace nutrients and boost immunity. The product is also rich in B vitamins for increased energy and better metabolism. Essential antioxidants are also provided to support brain and cellular health. They've also included lycopene and saw palmetto for prostate support.
Alive! Once Daily Men's 50+ is an extremely affordable option. Although it can't be customized to meet individual needs, this formula offers more nutrients than most over-the-counter products, making it an excellent choice for someone on a tight budget. There are 60 tablets in each bottle, so you'll need to repurchase them every two months.
PROS
Lab tested potency is excellent
1 caplet per day
Affordable
CONS
Expires quickly
Not as reputable as many other brands
A More Personalized Approach to Multivitamins for Men Over 50
Although a once-daily multivitamin can provide significant health benefits, they're not the best option for everyone. One size certainly doesn't fit all when it comes to nutrition.
Your individual needs can change dramatically according to your stress levels, physical activity, diet, certain health issues, and much more. A lack of personalization in your multivitamin solution could prevent you from filling in the nutritional gaps needed to meet your specific health goals.
Choosing your multivitamins and supplements from custom vitamin pack brands can help you get a completely personalized solution. Here are our top personalized vitamin picks for men over 50.

ABOUT PERSONA NUTRITION
Persona Nutrition was founded in 2017 as Vitamin Packs and rebranded in August of 2018 to Persona. Their goal is simple. Provide a unique science-backed wellness program through personalized vitamin and nutrient recommendations.
Why we like Persona Nutrition
1. Their easy assessment considers your health, lifestyle, and medications.
2. Personalized, doctor-approved vitamin recommendations.
3. Support from credentialed nutritionists via email, chat, or phone
4. Packets are delivered to your door and cost 30% less than other brands.
PROS
Easy to get started. The quiz only takes about 5 minutes.
Affordable pricing, high-quality ingredients, and independent testing for purity
Easy customization based on your individual health goals and concerns
Excellent customer service with one on one access to nutritionists
Specialized programs available for prenatal, energy, beauty, and more
CONS
Formulas are based on questionnaire only. No blood work or DNA testing offered

Care/Of provides a personalized monthly vitamin subscription right to your door, and each packet has "Made for (Your Name)" printed on the front.
The company makes recommendations, based on the results of your quiz, for nutrients you might need based on your age, where you live, and any health issues you are dealing with.
And in your quiz results, Care/Of breaks explains each supplement further and describes why it would be beneficial for you to take it.
PROS
Subscription is easy to customize based on your individual health goals and concerns
Prenatal and plant-based formulas available
Specialty supplements can be added to your subscription, including collagen, protein, various herbs, medicinal mushrooms, and probiotics
High-quality natural ingredients and independent testing
CONS
Personalization is based on quiz only; no blood work or DNA testing offered
Additional cost of add-ons can add up quickly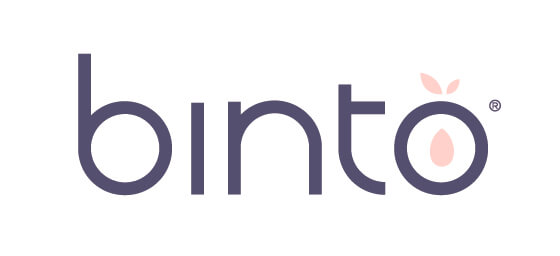 What women love about BINTO's product:
Simple, quality ingredients – No fillers or preservatives, vegan-friendly, dairy-free, soy-free, gluten-free.
Made in the USA – They're real. They like to be upfront about where they source their ingredients. All of their supplements and vitamins are manufactured here in the U.S.A. with some ingredients sourced from around the world.
One-on-one support – Get access to licensed health experts via free online chat, 1:1 consultations, or group classes. Binto's staff includes women's health providers, fertility specialists, dietitians, and lactation consultants, so you feel supported at every stage.
PROS
Personalized formulas for women at every stage of life: teens, fertility, pregnancy, postpartum, & menopause
Once you complete the survey, your first month's subscription arrives quickly
Prices start at less than $1/day
One on one access to medical experts via live chat and telephone
CONS
No way to edit your formula or update your subscription on the website; must be done through customer support
Formulas are personalized using information on your questionnaire only; no blood work or DNA analysis offered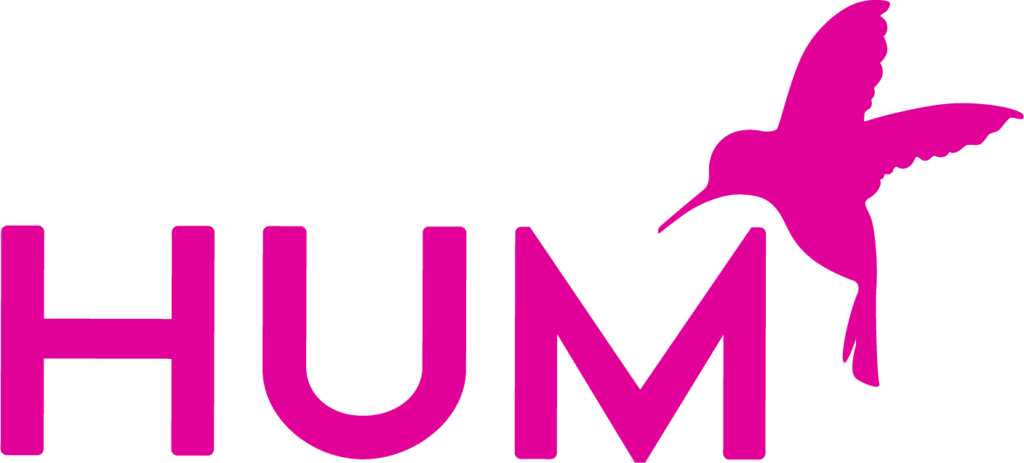 HUM Nutrition uses only clinically proven ingredients in their clean, natural, and personalized formulas. Every ingredient is triple-tested for potency and purity. In addition to personalized formulas, free nutrition advice from registered dieticians is available to every client. And you get to customize your supplements based on your personal goals and preferences.
Why do we like HUM Nutrition?
Their quiz is short and sweet but still takes your health, lifestyle, goals, and medications into account.
Your personalized recommendations are delivered in a customized report created by a registered dietitian.
You have a say in which supplements you want to purchase and you can customize your selections based on your personal health, beauty, and fitness goals.
From stress management to building muscle and boosting immune health to busting breakouts, they have a formula for every need.
PROS
Easy to get started. Their quiz only takes about three minutes
Backed by scientific research and Formulas are natural and triple-tested for potency and purity
Packaging and ingredients are clean and sustainable
Formulas are shipped automatically on a one-month or three-month schedule
CONS
Recommendations are based on a short questionnaire only. No blood work or DNA testing will be considered
Supplements come in a bottle, which isn't as portable or convenient as individual vitamin packs
There's no question that a man's body changes as he passes the 50-year mark. It only makes sense that your nutritional needs will change as well.
The best multivitamin for men over 50 can help to prevent many of the side effects of the natural aging process, including heart disease and high blood pressure. It can also increase your energy levels, boost your immune system, and keep you feeling and looking younger longer.
Even if you do your best to eat a variety of whole foods each day, it's nearly impossible to get all of the essential nutrients your body needs for optimum health through a balanced diet alone. In fact, it's estimated that 92% of people in the United States have a nutrient deficiency. And, if you are a vegan the odds of certain nutrient deficiencies are even higher.
Choosing the best multivitamin supplement for men over 50 will fill in any gaps in your diet while supporting your overall health.
Do Men Over 50 Need a Multivitamin?
Men over 50 should consider taking a high-quality multivitamin for a number of reasons, including supporting overall health and maintaining quality of life for as long as possible. And, although a balanced diet can provide most of the nutrients you need, many of us don't eat as healthy as we should every day.
It's also important to know that a man's nutritional needs change dramatically with age, so getting enough essential vitamins is crucial. Without the right nutrients, older men may experience a loss of strength and muscle tone as they age, as well as increased fatigue, especially after exercise.
It's also normal for your bones to become more brittle and lose density with age, which leads to easier fractures and breaks. To add insult to injury, your metabolism slows down when you get older, meaning you're more likely to gain weight (and that dreaded belly fat), as well.
You've probably already noticed that your vision and sex drive aren't what the used to be. And of course, there's an increased risk of heart disease, high blood pressure, prostate cancer, and memory loss in older adults, too.
That all sounds pretty grim, but there are ways to fight back against the signs of aging! Combining a balanced diet with the right dietary supplements can slow down the aging process and help you maintain overall health.
Which vitamins and minerals are imortant for men over 50?
No matter how old you are, strength training and cardiovascular exercise will help you maintain muscle tone and burn off fate. A men's multivitamin that includes key vitamins, minerals, and essential micronutrients for older adults, such as calcium, vitamin K, and vitamin D will support those efforts and improve your bone health and prevent bone loss.
Important antioxidants like vitamin C (ascorbic acid) and vitamin E can help to fight free radicals, slow the aging process, prevent older men from developing cognitive degeneration and memory loss, support immune health.
The best multivitamin for men over 50 should also contain vitamin A for healthy vision. And, omega-3 fatty acids and probiotics are crucial for reducing inflammation, boosting the immune system, and brain health.
Increasing your intake of B vitamins, like biotin, pantothenic acid, folic acid, vitamin B6, and vitamin B12, will keep energy levels up while reducing the risk of heart disease and high blood pressure.
The best men's multivitamin also has trace essential nutrients like lycopene, lutein, and CoQ10, and herbs like saw palmetto to promote prostate health and heart health.
Being proactive by exercising regularly, eating a variety of whole foods, and taking a men's daily multivitamin is the secret to slowing down the aging process.
Choosing the Best Multivitamin for Men Over 50
If you're serious about slowing down the aging process, you can't just grab any old multivitamin off the shelf and expect great results. The FDA doesn't regulate dietary supplments, so it's up to you to do your research.
Look for a high-quality men's multivitamin supplement that has been formulated with key vitamins for the specific nutritional needs of men over 50. But with hundreds of supplements on the market, so how do you know which multivitamin is right for you? You've got to do your homework!
To save you some time, the team at MBSF has researched and reviewed all the top multivitamin brands and formulas on the market right now. In our roundup above, you'll find the best multivitamins for men over 50 listed in one convenient location. Use this resource to get the facts about the top brands and make an informed decision that's right for you.
The Take-Away
If you're a man who's serious about staying healthy in your 50s and slowing down the aging process, custom vitamin packs are the way to go. You can't beat the convenience of personalized daily multivitamins delivered right to your door each month. When you add in the high-quality ingredients and the maximum potency formulas, it really is a no brainer.
However, you shouldn't let your budget stand in the way of your health! Once-daily multivitamin formulas created specifically for men over 50 are still a great way to meet your increased nutritional needs.
The high-quality multivitamins from Alive, One A Day Men's 50+, and Centrum Silver are all very affordable, and since you only take one tablet a day, they're also convenient.
From aches and pains to high blood pressure and weight gain, older adults can expect a lot of changes as you pass the 50-year mark.
The best multivitamins for men over 50 will help you meet your increased nutritional needs so that you can stay active and healthy throughout your 50s and beyond. It's time to get proactive and provide your body with the raw materials it needs to fight disease and slow down the aging process!