I don't have time to cook. And to be completely honest, I kinda despise the entire process… from shopping to meal prep. I've been a Hello Fresh subscriber for years, and while that gets me out of shopping and prepping, I still have to do the cooking. And, I'd rather not.
Recently, I was introduced to Freshly and knew I had to give them a try. Their meals are prepared by a chef, individually packaged, and then delivered right to your door in an insulated, chilled box. You literally just pop one in the microwave, and you're ready to eat in about three minutes flat!
Considering how much whining is involved when I have to plan, shop, cook, and do the dishes, I decided to jump on the chance to give Freshly a try.
Here's how Freshly works and why I like it:
How Freshly Works
Freshly is a meal subscription service that delivers healthy, chef-prepared meals right to your door. The meals come chilled but not frozen, in an insulated box. My box gets left in the lobby of my apartment building, but I have no trouble getting it up to the 14th floor.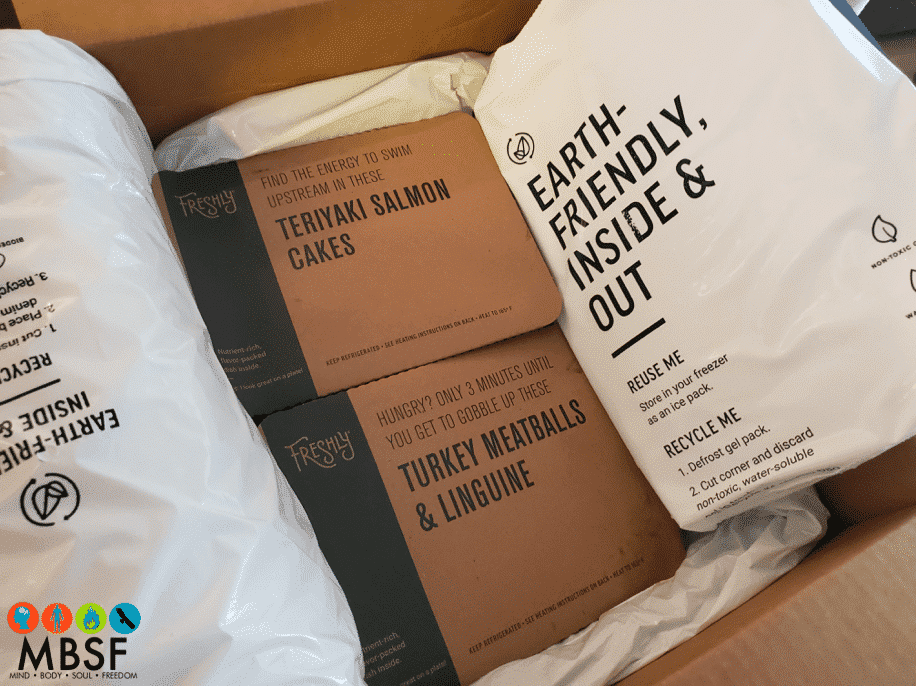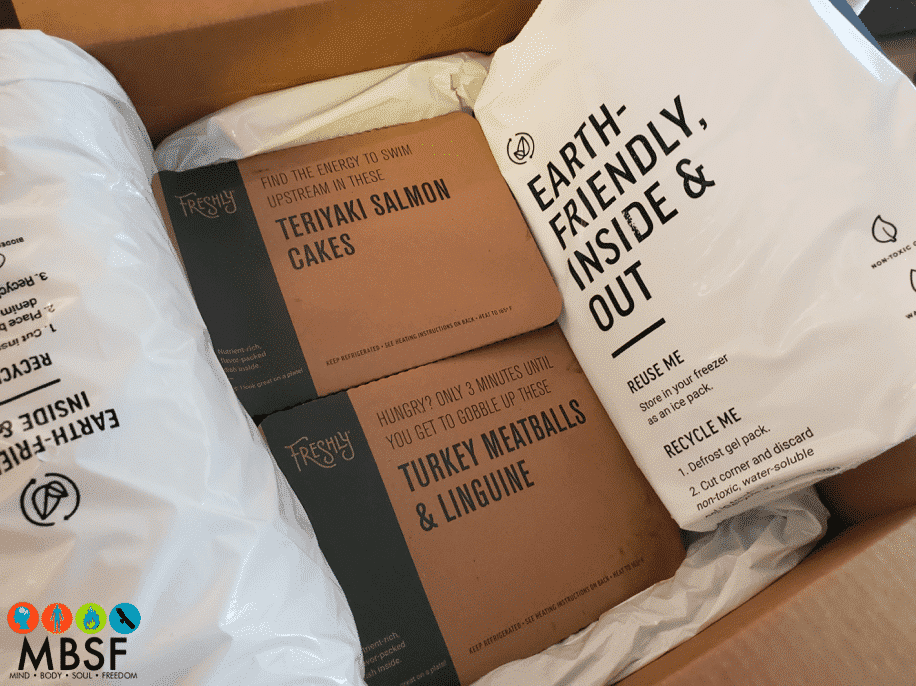 Once you subscribe to the service, you receive a weekly delivery of the meals you choose. You can personalize your choices each week or let them decide for you based on preferences you choose at sign up. They even add a new meal to the menu each week to keep things interesting.
One of my favorite things about the service is that you have control of your deliveries up to three weeks out. Going on vacation? No worries. You can simply skip that week (or three) right on your account page on their website. There is a deadline for making changes, but they send you an email, so you don't forget.


When your box arrives, simply unpack your meals and stick them in the fridge. The boxes are specially designed to keep your food cold for two full days in transit, plus an additional 12 hours at your doorstep. They let you choose your delivery day, too! How convenient is that?!
When you're ready to eat, pop the meal in your microwave for three minutes. You don't even have to dirty up a plate if you don't want to. There's something to be said for only having to wash a fork after dinner! Did I mention I hate doing dishes?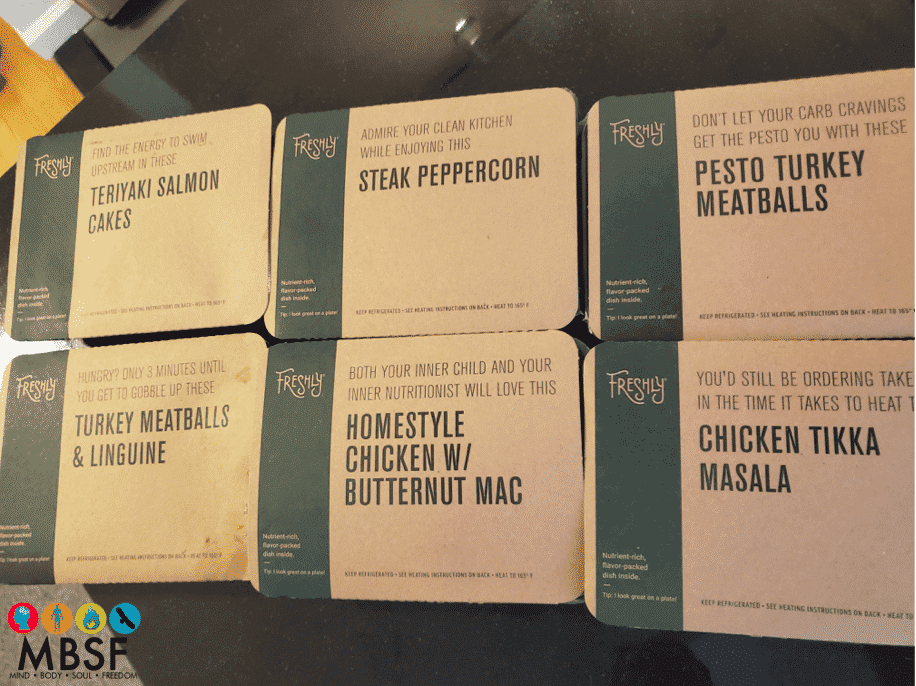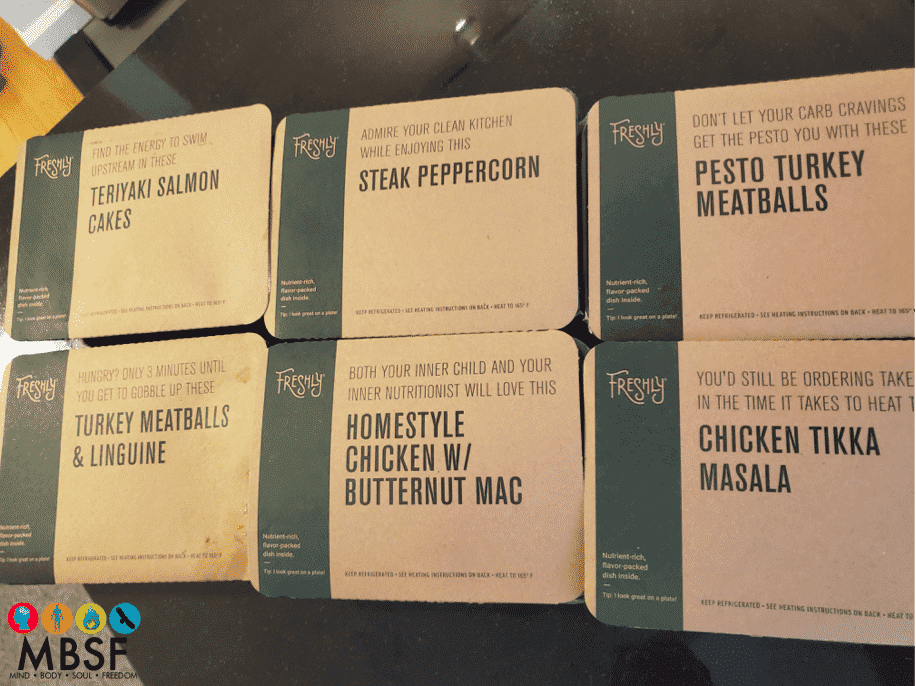 How does the Freshly Meals Taste?
This is what you really want to know, right? Trust me, it was my biggest concern, too. And I was pleasantly surprised! Freshly meals are delicious right out of the microwave! (You can cook them in the oven instead… but why would you want to wait that long?)
Honestly! If I were to put a meal from Freshly on a plate and serve it to a friend, he would never know it came out of the microwave. Seriously… I've done it!  I've never had microwaved meals that tasted this good. And, since I hate to cook, I've tried a lot of microwave meals.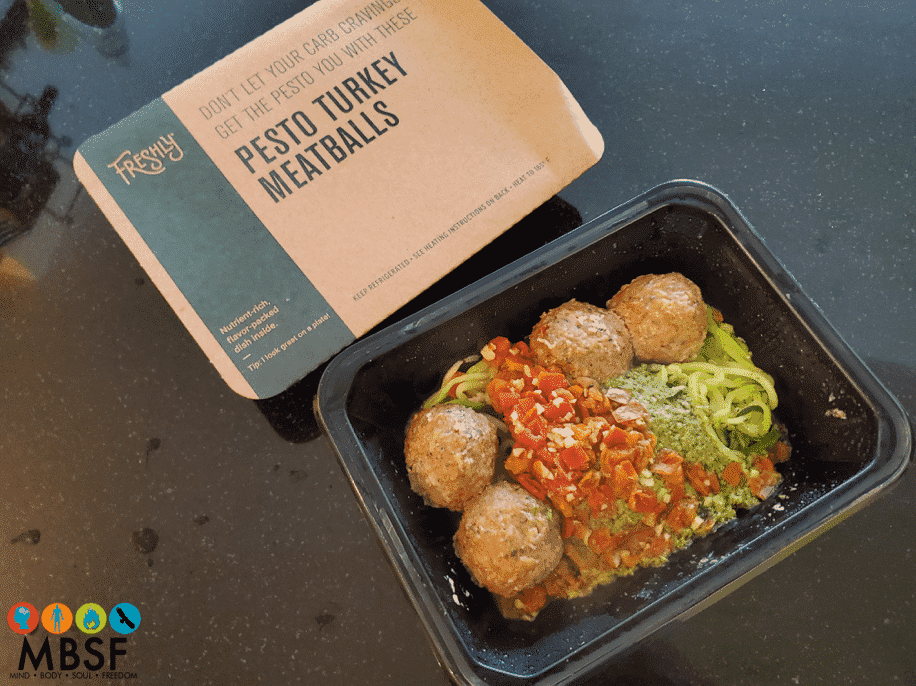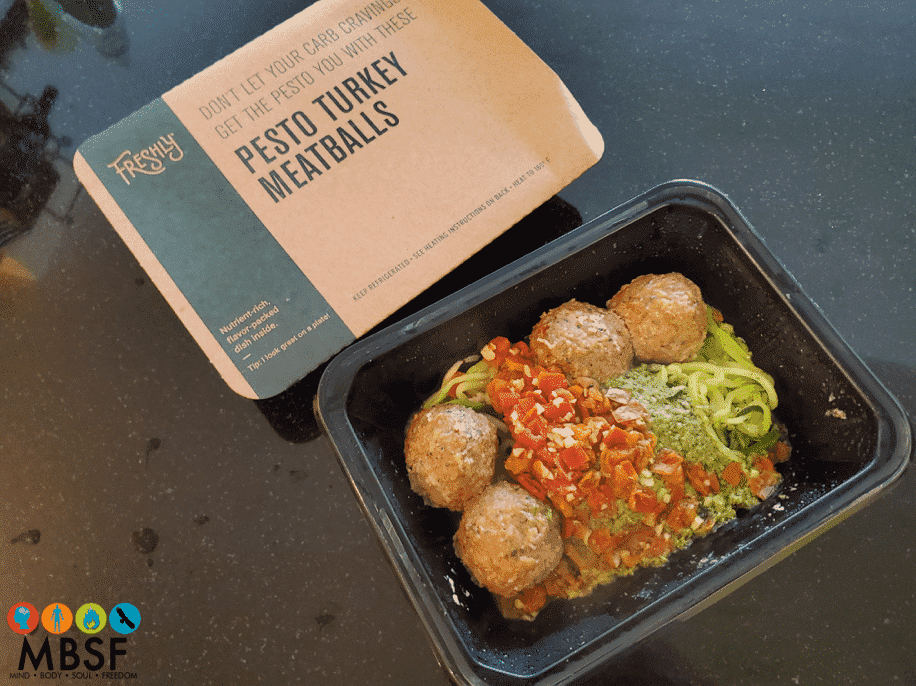 I've tried almost all of their meals now, and I haven't been disappointed yet! One of my favorites is the Steak Peppercorn with Sauteed Carrots & French Green Beans. I love peppercorn, and this dinner has terrific flavor! The steak is super juicy, and the mashed potatoes are rich and creamy… you would never guess that it's actually good for you!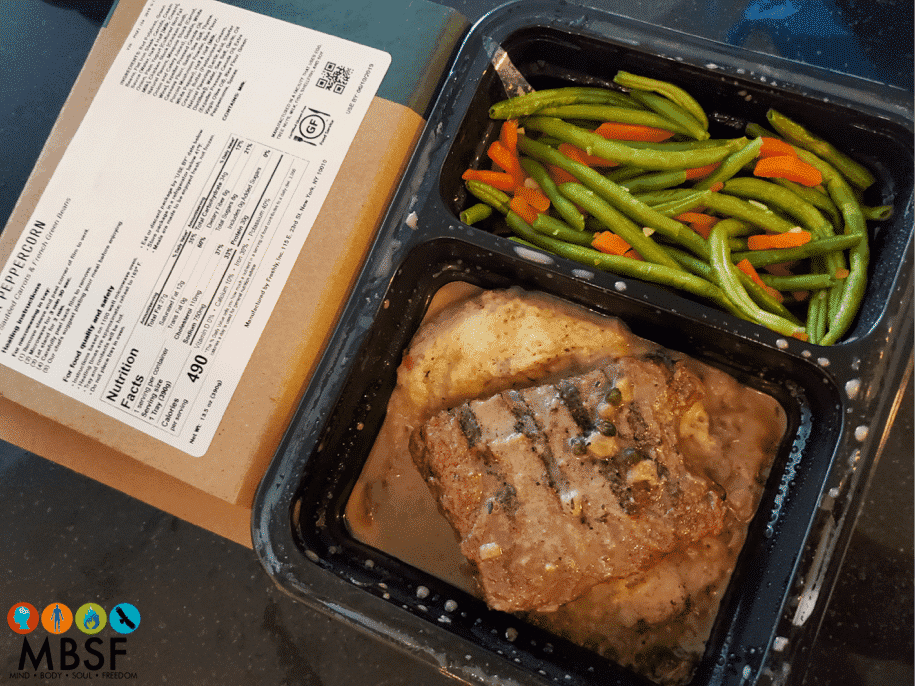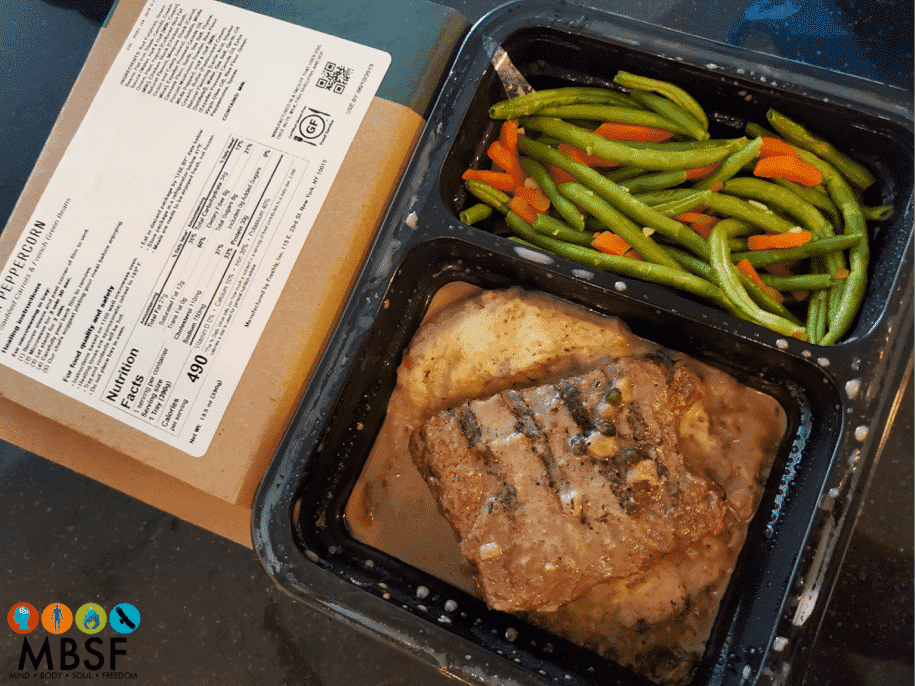 Another stand out favorite for me is the Teriyaki Salmon Cakes served with brown rice and spicy green beans. The salmon cakes have the Asian flavors of lemongrass, ginger, and sesame oil- so good! And, brown rice may sound boring, but they season it up with tamari, garlic, and ginger. There's no way I could come up with a meal like that on my own!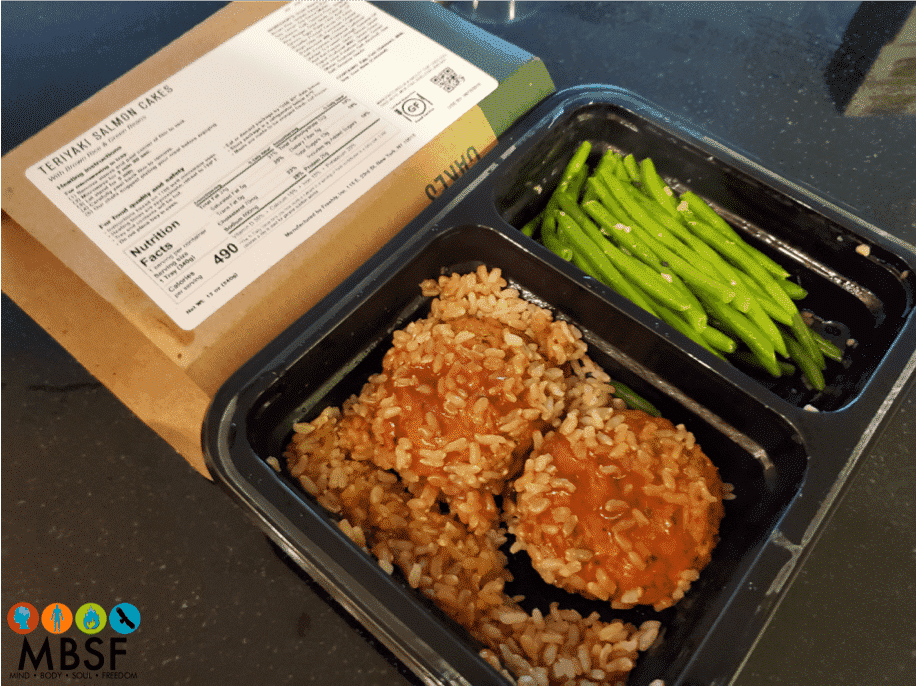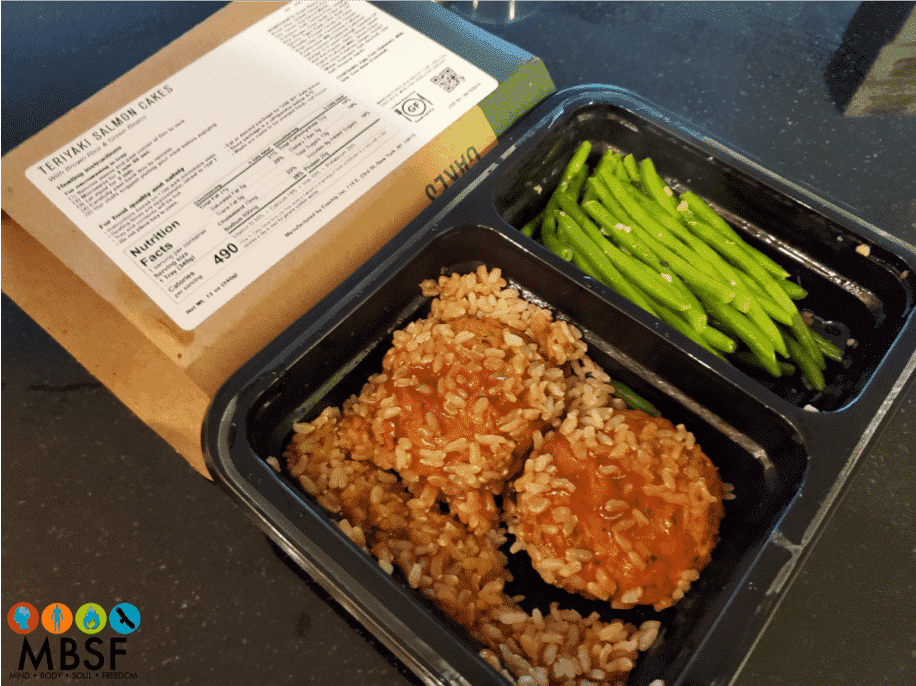 You're probably wondering about portions sizes, too. To be honest, the portions are just right for me. On the other hand, my boyfriend works out a ton and eats a boatload of calories every day. While he never really walks away from a meal hungry, he does wish some of the portions were just a little bit bigger.
Are the Freshly Meals Really Healthy?
This was a big deal for me. As much as I hate to cook, I don't want to be eating a bunch of crap either, no matter how convenient it is! I was thrilled to find out that all of Freshly's meals are gluten-free. They're made with real, nutrient-dense, whole ingredients. And, they include only healthy fats, nutrient-dense carbs, high-quality protein, and lots of veggies with every meal.
Their ingredients are non-GMO and organic whenever possible. They also guarantee that their meals are free of refined sugar, artificial ingredients, chemicals, and other harmful additives. You can also customize your menu to be under 500 calories, low carb, dairy-free, soy-free, vegetarian, paleo-friendly, or even high protein.
They even have a wellness expert that can help you choose the right meals for your particular diet considerations!
For my first week, I chose my Freshly meals to be around ~500 calories. Some were a bit over but looks delicious so I had to give in. Here's the count per meal:
Freshly Meals Calorie Count
| | |
| --- | --- |
| Meal | Calories |
| Teriyaki Salmon Cakes w/ Brown Rice & Green Beans | 490 calories |
| Turkey Meatballs & Linguine | 490 calories |
| Steak Peppercorn w/ Sauteed Carrots & Green Beans | 490 calories |
| Homestyle Chicken w/ Butternut Mac & Cheese | 610 calories |
| Pesto Turkey Meatballs w/ Zucchini Noodles | 450 calories |
| Chicken Tikka Masala w/ Vegetable Biryani | 540 calories |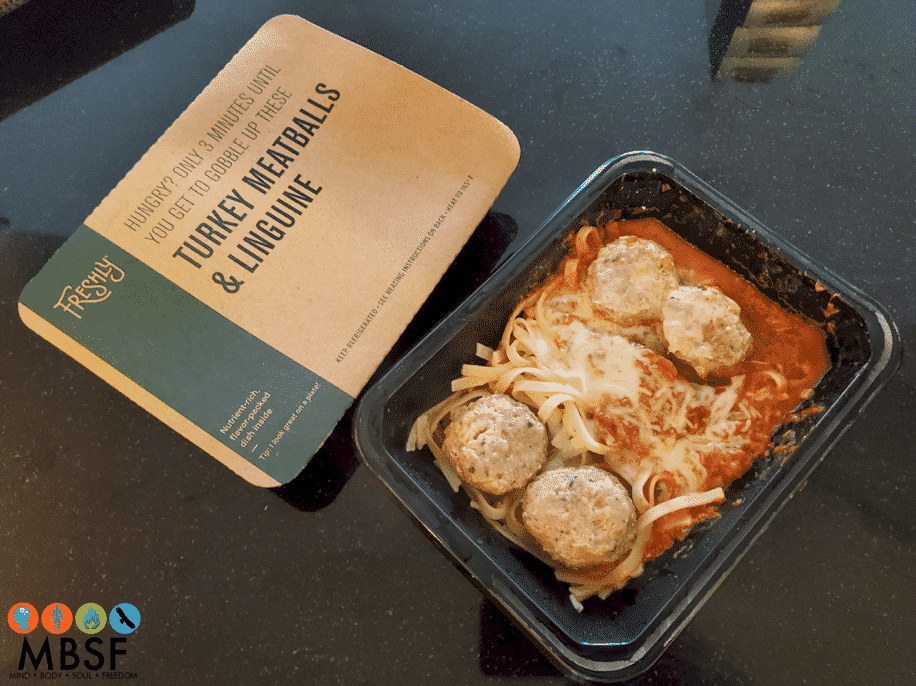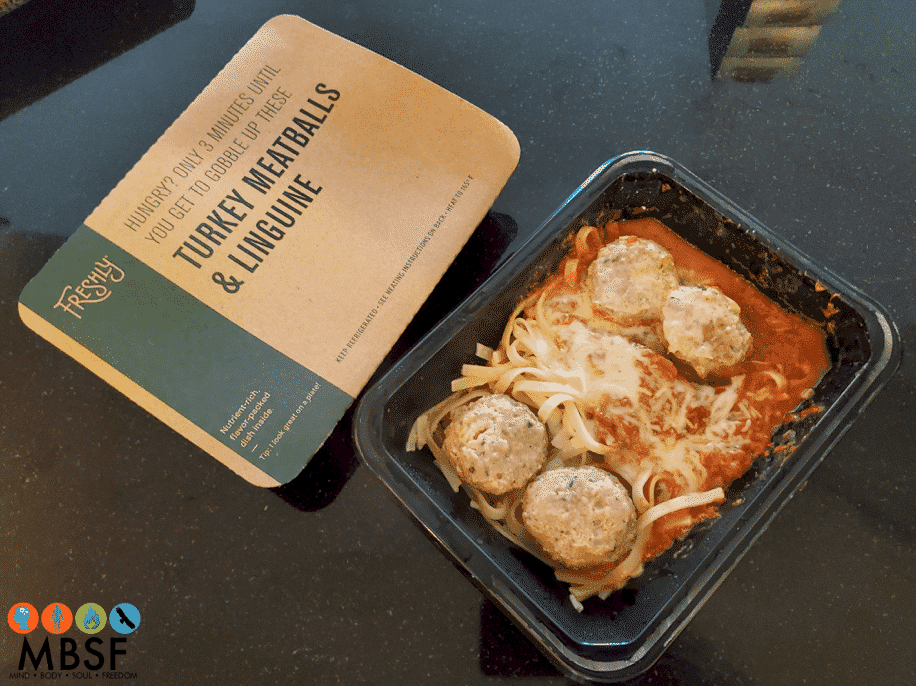 My Final Review on Freshly
Freshly is an excellent option for people like me who hate to cook and clean up. You might also consider subscribing to the service if you're going to be coming out of the hospital… say after surgery or having a baby. It's great when you simply need some time off from cooking during a busy or stressful time.
Or, have a box sent for your non-cooking spouse when you're going to be out of town- you don't want him to starve, right? Husbands could gift their wives with a "cooking vacation" by gifting her with a week or two of Freshly meals.
But, for me, the obvious win is the convenience and the time saved. Eating high-quality, fresh, healthy, food doesn't get any easier than this. I save at least an hour every day by not having to shop, cook, and do tons of cleanup. Imagine what you could do with an extra hour or more each day.
Opening the fridge after a long day at work, grabbing one of these meals, and sitting down to eat in a few minutes is a fantastic feeling. It's every bit as convenient as fast food, but it tastes so much better, and it's healthier, too!


Freshly
Freshly's mission is to help you be happy, healthy, and have more time to pursue your passions. Their meals are always gluten-free and they try to always use meat and produce that is locally sourced.
The menu is updated weekly and they offer dozens of breakfast, lunch, and dinner options for you to choose from so you can customize the meal plan that works best for you.
Freshly lets you choose four, six, nine, or twelve meals per week. A Freshly menu might include things like Jamaican style jerk chicken, a southwest veggie bowl, and ginger-soy chicken with fried rice and vegetable stir-fry.
OFFER: Freshy is offering new customers $60 Off ($15/meal). Check it out right here