Jump to the List of the Best Protein Bread Brands →
Are you curious about the protein bread that's been popping up in your Instagram feed lately? High-protein baked goods are one of the latest health food trends, and they're gaining popularity fast- along with high-protein coffee creamer, snack chips, and more…
It seems like the craze for protein-enriched foods has reached a fever pitch!
But what is protein bread? Is protein bread better for you than regular bread? And which brand makes the best high-protein bread? Here's everything you need to know before you decide to give it a try!
What is protein bread?
Protein bread is simply bread that has been enhanced with high-protein ingredients. The health and fitness crowd is obsessed with protein because it offers a variety of benefits. It helps build muscle, boosts energy and metabolism, reduces cravings, and supports a healthy immune system.
Manufacturers have jumped on the protein bandwagon. It's now added to everything from powders and water to snack foods and breakfast cereals. Of course, protein is already found naturally in whole foods like nuts, seeds, legumes, whole grains, eggs, dairy, meat, and fish.
Different Protein Bread Companies Use Different Protein Sources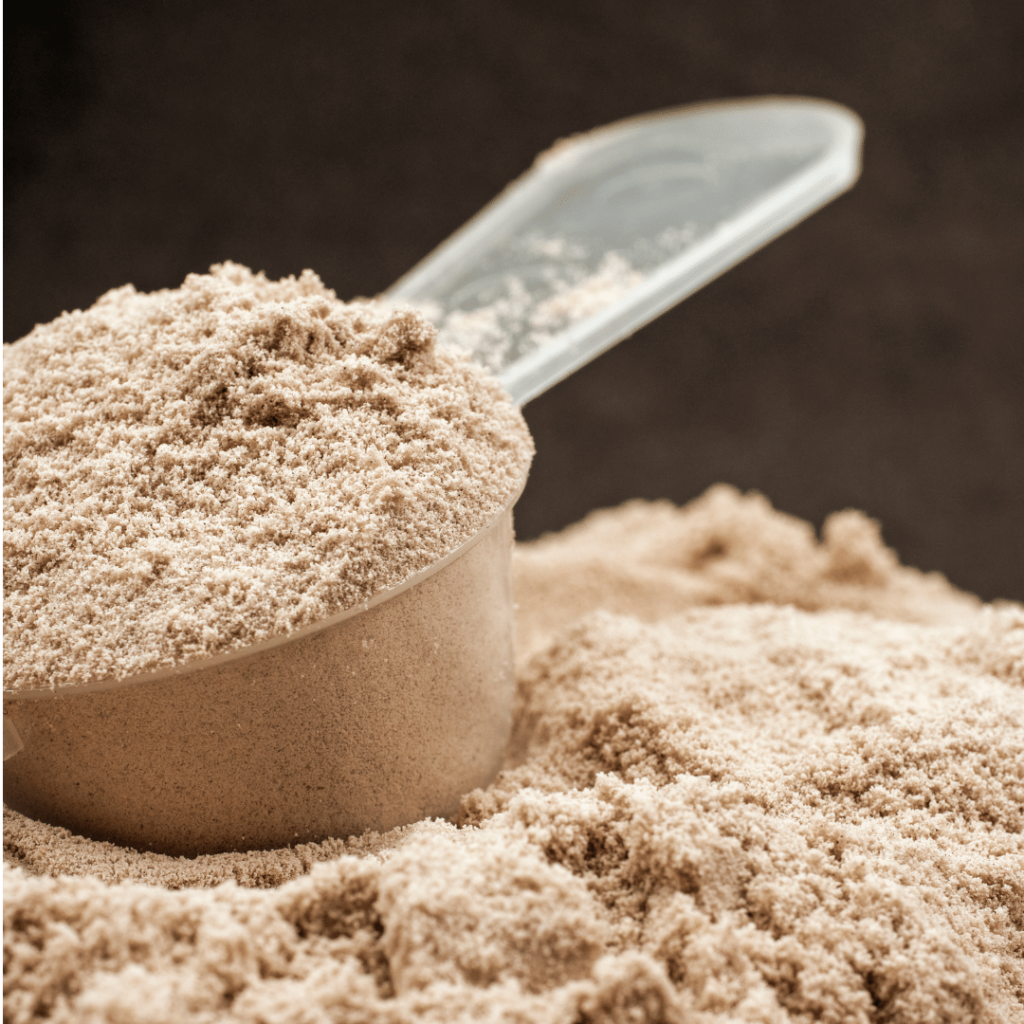 Different high-protein bread makers use different protein sources to increase the protein in their bread. Some add protein powders made from egg whites, soy, whey, or peas. Others use wheat gluten or wheat protein. Nuts and legumes, like ground almonds or chickpeas, are also great sources of protein added to many protein breads.
Check Ingredients Carefully
Just like any other food, it's important to read ingredient labels carefully when you're shopping for protein bread. For example, if you have a gluten intolerance, IBS, or other inflammatory conditions, you'll want to choose gluten-free products.
Soy, dairy, nuts, and eggs are also commonly found in bread and other baked goods, which you will also want to avoid if you have food sensitivities. And it's just good practice to avoid anything containing preservatives, artificial colors or flavors, refined sugar or carbs, or any mystery ingredients you don't recognize.
High-Protein Doesn't Mean Low-Carb
If you're on a keto or low-carb diet, don't assume that high-protein bread is low-carb. Many aren't. Some contain as many carbs as a slice of regular white bread and very little fiber. Some are higher in calories than regular whole-grain bread too, which may be a concern for you.
However, we have found (and listed below) several keto-friendly protein bread brands that have 6 grams of protein or more per slice, low carbs, and lots of fiber. Many have 2 net carbs or less, making them much more keto-friendly than most other bread and baked goods.
Is protein bread better than regular bread?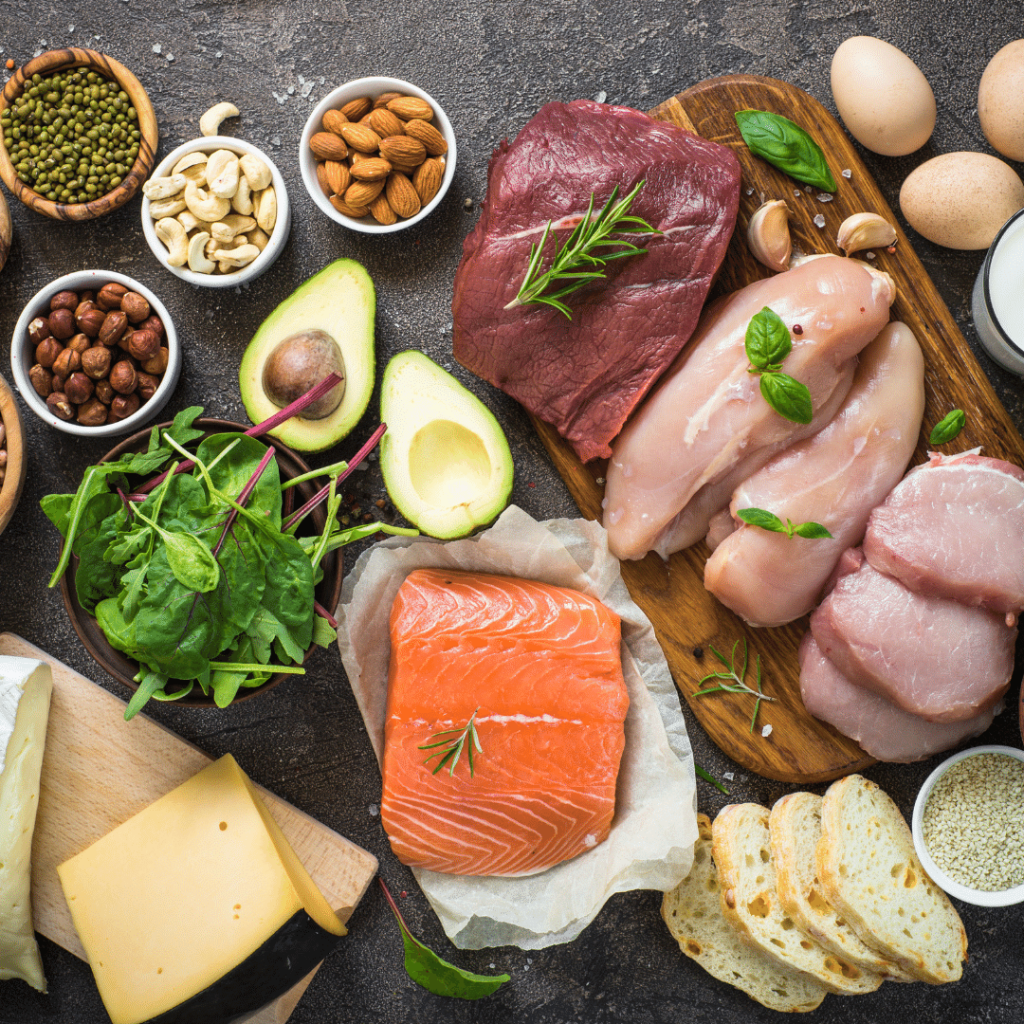 It's important to note that all whole grains naturally contain protein. So, bread that are made with oats, millet, quinoa, rye, and whole wheat flour are already natural sources of protein, as well as various vitamins, minerals, and fiber.
If you're already eating a variety of foods that naturally contain protein, you are probably already meeting your protein requirements each day. Choosing bread that's enriched with protein might not be necessary. If you're simply looking for more energy, you're probably better off taking a high-quality multivitamin.
However, if you work out a lot and you're trying to increase your protein intake, protein bread makes a lot of sense. It's a convenient way to add protein to breakfast, sandwiches, and as a side at meals. And, let's face it, those protein shakes, protein bars, chicken breasts, and egg whites get old after a while.
And, if you're on a ketogenic or low-carb diet, you might be able to satisfy your craving for baked goods with high-protein bread, as long as you choose one that's lower in carbs and higher in fiber.
Satiety is another advantage of choosing a protein-enriched bread. Protein takes longer to digest, so it helps you feel fuller longer, especially when combined with complex carbs like whole grains. This can be a huge advantage if you're trying to lose weight or you're always hungry in the middle of the day.
Just keep in mind that extra protein doesn't automatically mean a healthy product. You still need to read labels and look for natural ingredients with minimal processing.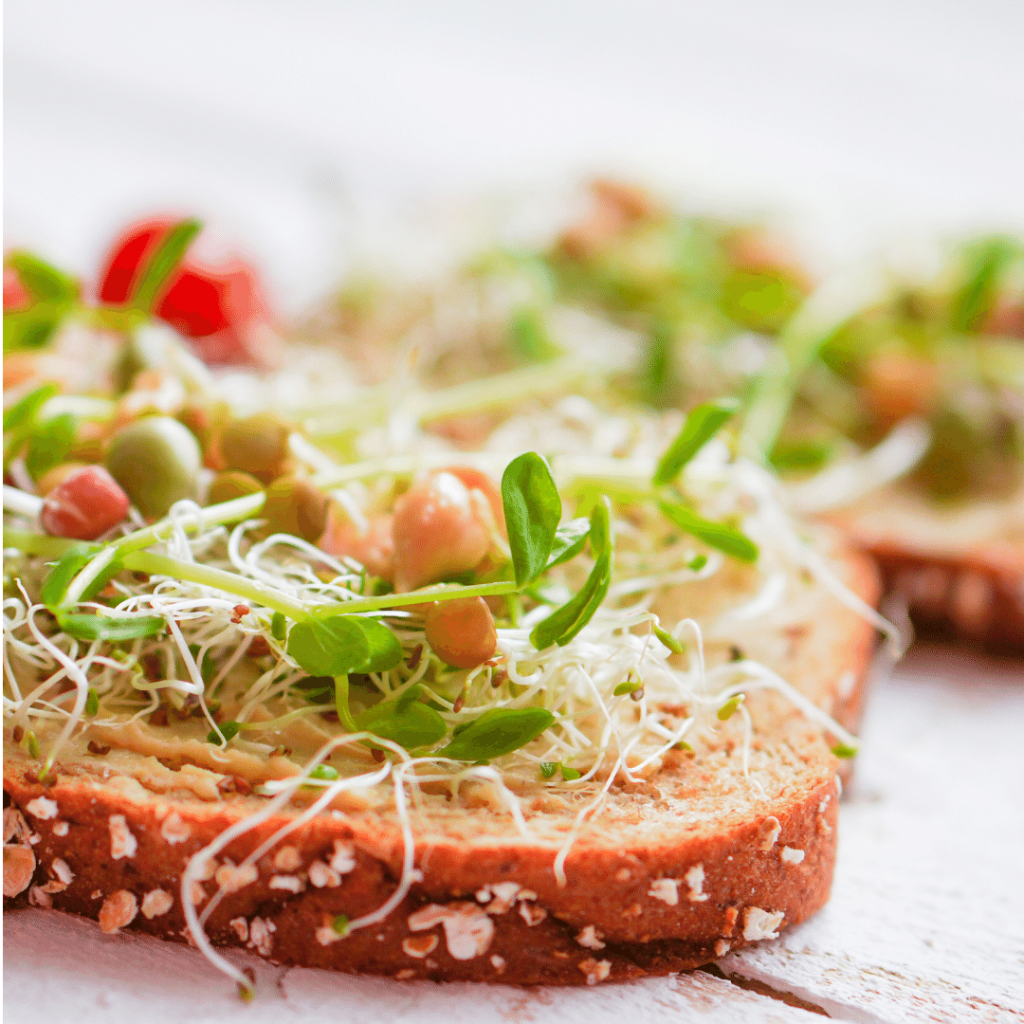 The Top 12 Protein Bread Brands
Wondering where you can buy protein bread? It's readily available online and in most health and natural food stores. Here are the best high-protein bread companies to look for.
---
Get 10% off with code: MBSF10
Eat Me Guilt Free fits all of our criteria for a healthy, keto-friendly bread that tastes so good you won't even realize it's low-carb. It's incredibly satisfying and made from simple, wholesome ingredients like wheat protein, flax seeds, sunflower seeds, soy protein, and apple fiber.
Nutrition Information
Two slices of Eat Me Guilt Free high-protein bread contain:
140 calories
12 grams of protein
6 grams of fat
10 grams of carbs
5 grams of fiber
It looks and tastes just like regular bread, so it's perfect for everything from sandwiches to French toast… without the guilt!
This delicious protein bread is shipped right to your door in a three-loaf bundle and is specially packed to maintain freshness. Did we mention they make delicious high-protein, low-carb brownies in all kinds of mouthwatering flavors, too? (Try the Birthday Cake flavor… you won't regret it!)
WonderSlim Protein Brown Bread is the perfect bread for a healthy, bread that tastes great.
Nutrition Information
Three slices of WonderSlim Protein Brown Bread contains:
180 calories
15 grams of protein
9 grams of fat
15 grams of carbs
360mg of sodium
If you are looking for a protein bread that also tastes good and is good for you, Omega Bun fits the bill nicely. Omega Bun is a one-of-a-kind sandwich bun that's not only high in protein but it's also made from all-natural, organic ingredients. Even better, Omega Bun is grain, dairy, sugar, nut, preservative, and gluten-free, too!
Nutrition Information
This keto-friendly protein bread contains:
140 calories
7 grams of protein
9 grams of fat
8 carbs
7 grams of fiber
In case you missed it, that's only one net carb per bun! Flaxseed is one of the main ingredients, making this bun rich in inflammation-fighting omega-3 fatty acids, too.
Whether you're on Keto, Paleo, Atkins, Whole 30, or simply follow a gluten-free or sugar-free diet, this bun is for you. Most importantly, Omega Buns taste great, too. You will love them for sandwiches, toast, and even burgers. The texture, size, and taste are on point!
Omega Bun ships their buns fresh each week, right to your door, and offers a convenient subscribe and save option. They also offer a variety of health-conscious bread and bun mixes in a variety of flavors that will have your mouth watering!
Ezekiel 4:9 Sprouted Grain Bread delivers high-quality protein and contains all nine essential amino acids. The protein source in Ezekiel Bread is protein and legumes, so it is completely plant-based and vegan friendly, as well as highly nutritious.
Nutrition Information
Each slice of Ezekiel 4:9 bread contains:
5 grams of protein
15 grams of carbs
3 grams of fiber
0 fat
Although it's not gluten-free or keto-friendly, it is probably the most naturally nutritious protein bread we reviewed, and it's readily available in most grocery stores.
Mestemacher Protein Bread is made from freshly ground whole grains, so it's extremely nutritious and satisfying. It's also very high in fiber, which supports cardiovascular and digestive health. It's perfect for keto and delicious enough for everyday eating.
Mestemacher utilizes a special pasteurization process to maintain freshness without the use of preservatives. NASA even sends it on long space missions to help astronauts maintain a healthy diet while they're in space.
Every slice of Mestemacher Protein Bread contains 140 calories, 10 grams of protein, 5 grams of fat, 12 grams of carbs, and 5 grams of fiber. The protein comes from a mix of wheat and pea protein, as well as flax and soy.
This protein bread is extremely popular and it can be tough to find in local stores. Thankfully, it's readily available on Amazon at a great price, and you can save even more with subscribe and save.
If you're looking for a low-carb, low-calorie sandwich bread that's also sugar and soy-free, check out Kiss My Keto zero carb, high protein bread. It's a fantastic option for vegetarians, as well as those on a ketogenic, low carb, or paleo diet.
Each slice of Kiss My Keto Golden Wheat Bread contains 70 calories, 6 grams of protein, 4 grams of fat, 5 carbs, and 5 grams of fiber… rounding out to zero net carbs and perfect macros! It also has a six-month shelf life, just freeze and defrost when you're ready to use it.
This bread actually tastes like real bread and it comes in four incredible flavors, including cinnamon raisin. It's great toasted or untoasted and has an excellent consistency that will make you forget it's low-calorie and sugar-free. It's also conveniently available on Amazon and shipped fresh right to your door.
Coming in at just 2 net carbs per slice, Sola Sweet and Buttery Bread is a great option for ketogenic diets. Sola has also chosen to go with healthier sweeteners like stevia and erythritol, so this protein bread is also sugar-free.
We love the moist, light, fluffy texture of this bread, making it perfect for sandwiches, toast, and snacking. Each slice of Sola Sweet and buttery bread contains 70 calories, 5 grams of protein, 1 gram of fat, 7 grams of carbs, and 4 grams of fiber.
Sola bread is conveniently available on Amazon, made fresh every week, and shipped right to your door. It's also available in three more equally delicious flavors: oat, seeded, and wheat.
Eatsane Nuts and Seeds Bread Loaf has a delicious nutty-sweet flavor and light, fluffy texture that's just as good as any regular bread. It's free of artificial ingredients and contains only a small amount of wheat to maintain the flavor and texture we all love.
The hearty texture of this bread makes it a great choice for sandwiches and toast. Although Eatsane bread is not gluten-free, it is keto, vegan, and low carb. Each slice has 50 calories, 4 grams of protein, 3 grams of fat, 5 grams of carbs, and 3 grams of fiber. Eatsane Nuts and Seeds Bread is conveniently available on Amazon and shipped fresh. It also freezes and defrosts well for storage.
9. HEB Bakery
HEB's protein bread is a high-quality loaf made with all-natural ingredients. Each slice has 12 grams of protein, 9 grams of carbs, 8 grams of fat, and 4 grams of fiber. The protein in HEB Protein Bread comes from whole grains and wheat protein isolate.
HEB protein bread is a great choice for those on a keto, paleo, or low carb diet, as long as you don't go overboard. We think this high-protein bread is absolutely delicious and reviewers agree. However, this bread won't work for you if you're on a gluten-free diet.
P28 is one of the more popular brands of protein bread. It's made from all-natural ingredients, including whole wheat. This high-protein bread contains 14 grams of protein, 12 grams of carbs, 3.5 grams of fat, and 2 grams of fiber per slice.
The protein in P28 bread comes from whole grains, whey protein isolate, wheat protein isolate, wheat gluten, and soybean oil. The addition of flax seeds makes P288 bread a great source of Omega-3s too.
P28 is a great choice for athletes who want to increase their protein intake, but it's not gluten-free, vegan, or low-carb.
11. Country Harvest Bread
Country Harvest Grains + Protein Bread is another popular choice for those who want an all-natural, high-protein bread. It's made from whole wheat and includes wheat gluten and soy protein.
This high-protein loaf has 6 grams of protein, 14 grams of carbs, 2 grams of fiber, and 1.5 grams of fat per slice. Country Harvest is a great option for those looking for a boost of protein, but it's not gluten-free or keto-friendly.
12. Icon Meals Protein Bread
Icon Meals makes a popular loaf of protein bread with grams of protein, 15 grams of carbs, 5 grams of fat, and 2 grams of fiber per serving. This loaf is made from high-quality natural ingredients, including whole wheat.
The protein kick in Icon Meals Protein Bread comes from whey protein, so it's great for athletes looking to amp up their protein intake. It's very filling and delicious, but it may not work for those on a low-carb diet and it's not vegan or gluten-free.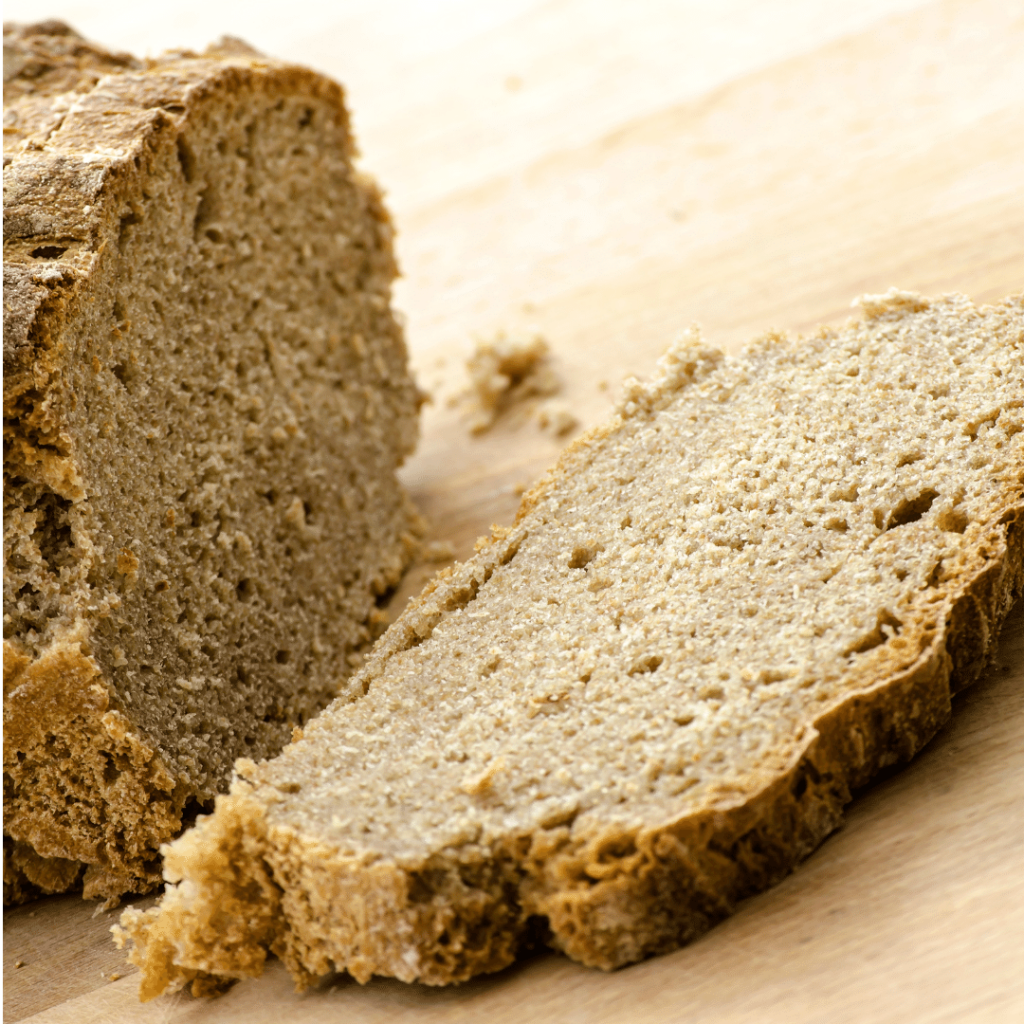 Frequently Asked Questions About Protein Bread
How much protein is in whole wheat bread?
The average amount of protein in whole wheat bread is 3.6 grams per slice; However, this can vary greatly from one manufacturer to another.
How many carbs are in a slice of bread?
The average slice of traditional white or whole wheat bread contains 15-17 grams of carbs.
Which protein bread is best for the keto diet?
Eat Me Guilt Free Protein Bread is a great choice for those on a keto diet, as long as you don't overdo it. It only has 5 net carbs per two slices, and it tastes like real bread. The flavor is much more delicious and "bread-like" than grain-free breads made from nut flours.
Can I add whey protein to my homemade bread recipe to make my own protein bread?
If you're wondering how to make protein bread at home, you replace some of the flour in your recipe with whey protein powder. Try using 1/3 cup of protein powder in place of 1 cup of flour. You may have to do some experimenting to get the texture just the way you like it.
What's the Bottom Line
Protein bread comes with a wide macronutrient count and range of ingredients, so you'll have to do your homework to find one that's right for you. When it comes down to it, choosing a whole-food diet, getting plenty of exercise, and taking a high-quality multivitamin will make a much bigger difference in how you look and feel each day.
But, if you're on a plant-based diet or you work out hard, a protein-packed bread is a fantastic way to fill in the gaps in your diet- just be sure to choose one that's clean and natural.