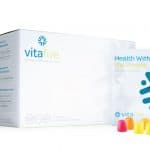 vitafive
Vitafive is based in California and they manufacture 99% or their vitamins right here in the USA. With Vitafive, you get a 28-day supply of custom gummy vitamin packs delivered right to your door each month.
To place your first order, simply go to vitafive.com and build your pack based on your individual needs. You will have the option to choose up to five different gummy formulas per pack. There are 8 different formulas to choose from including a multivitamin, a formula for brain health, a healthy hair formula, probiotics for digestive health, and more. The company includes a detailed description of each formula to help you decide which formulas are right for you. Each packet is personalized with your name and a list of the included vitamins.
All gummy formulas are vegan, gluten-free, and free of allergens. At Vitafive, the price is calculated per formula at around $5 per formula. You can expect to pay around $40 for a 4-week supply and you will get a new box delivered automatically every 28 days.