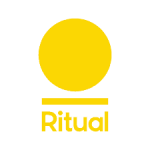 Ritual
Ritual was founded by Katerina Schneider. Her goal was to develop a vitamin that's free of all of the questionable ingredients that are traditionally found in vitamins. Ritual's products are simple and effective, made without using unnecessary ingredients. They only use the highest quality ingredients sourced from around the globe, and they're manufactured right here in the USA.
In keeping with their theme of simplicity, Ritual only sells one product, and it's all you need. Their Essential for Women has been made to fill the gaps in your diet with 9 essential nutrients including Folate, Omega-3, Vitamin K2, and Iron, all in forms your body can actually absorb. They've left out all the ingredients you don't need, and their formula is vegan, gluten-free, non-GMO, and free of dyes and fillers.
There are no hidden fees or surprises with Ritual. Subscribers will receive a 30-day supply of their Essential for Women, shipped right to their door each month for $30. Shipping is always free, and you can pause or cancel anytime.