I love to test out meal delivery services that focus on providing healthy, gluten-free, organic food. I hate to cook, so I'm always on the lookout for companies that deliver their meals ready to heat and eat.
Factor 75 caught my attention because their meals are made from fresh, healthy ingredients, prepared by professional chefs. Here is my review and first impressions of the Factor 75 meal delivery service.
An Overview of Factor 75 Meal Delivery Service
Like most meal delivery services, Factor 75 is a subscription service that delivers meals according to a plan that suits your needs.
To begin receiving meals, simply go to their website, create an account, and choose how many meals you want to receive each week.
Plans range from four to 18 meals per week, so they're very flexible. The more meals you order, the less you pay per meal.
One of my favorite things about Factor 75 is that they use only organic, non-GMO ingredients. They offer gluten-free, soy-free, and dairy-free options. Their meats come from grass-fed, pasture-raised sources, and their meals suitable for those on a Whole-30, Keto, or Paleo diet, making it super easy to meet your daily nutrition goals.
I'm a big fan of options and Factor 75 doesn't disappoint in this area! They have about 17 different meals on their menu every week, and you can decide which ones you want or let them choose for you.
They also allow you to pause or cancel your subscription without any fuss. It's also easy to modify your subscription if you decide to change your meal plan.
Shipping and Delivery
Factor 75 meals are shipped fresh (not frozen) in an insulated box with gel ice packs that keep your food cold for a long time.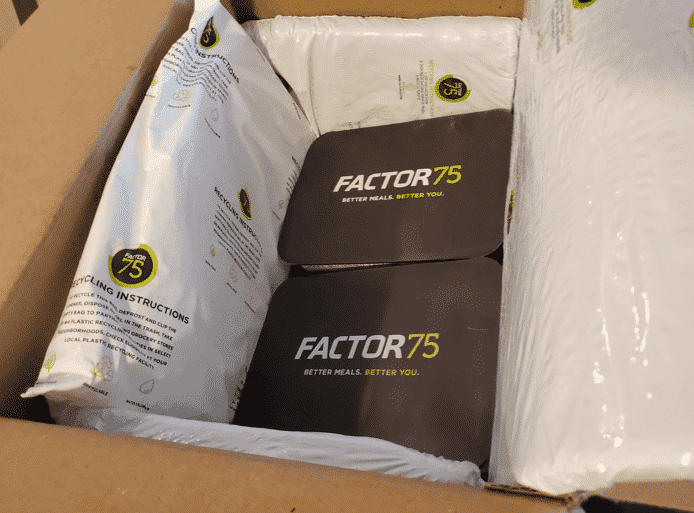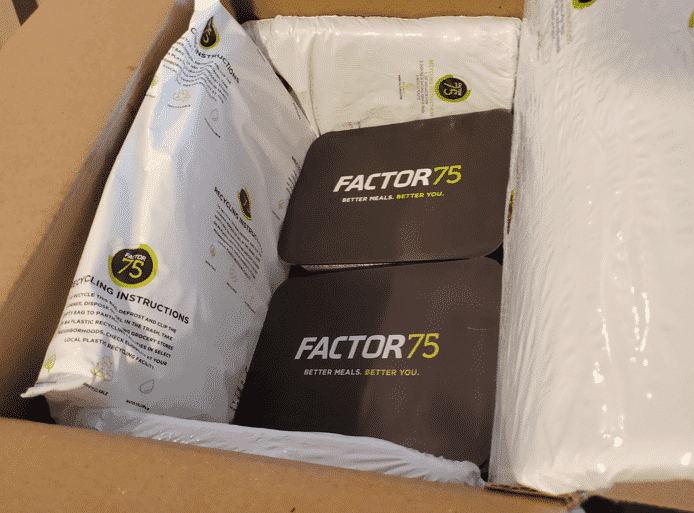 They deliver Monday through Wednesday, depending on your delivery area. You don't have to be home when your delivery arrives because their packaging is designed to keep your meals cold for several hours on your doorstep.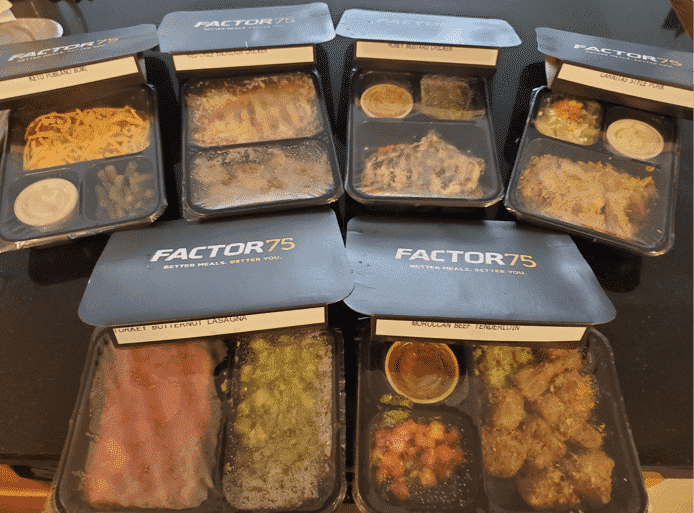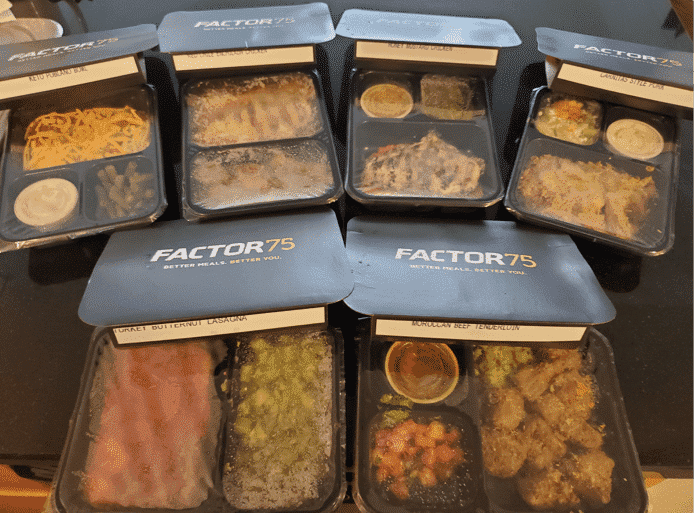 When you get home, just pop your meals in the fridge until you're ready to eat. If you want, the meals can be frozen for more extended storage. All of Factor 75's packaging is either recyclable or biodegradable, so they're environmentally friendly, too.
What I Like About Factor 75
Factor 75 goes out of their way to make sure their meals are of the highest quality.
Every ingredient is non-GMO and free of preservatives, antibiotics, and hormones. Not only are the meals gluten and soy-free, but they're also organic.
Their proteins come from pasture-raised, grass-fed, and wild-caught sources. While most meal delivery services manage to hit some of these standards, Factor 75 is one of the few that actually meats all of my strict standards for healthy eating.
I was also really impressed with the level of customer service and personalization offered by this company. They do everything they can to make sure you're delighted with your experience.
For example, when you sign up for service, they start by having you fill out a "taste profile," so that they know which foods you really like and which ones you would rather avoid. They also ask about allergies to things like nuts, eggs, and fish. Your preferences are saved and applied to every delivery, so you know you're always getting what you want.
Many food delivery services require you to do some degree of cooking and clean-up, but that's not the case with Factor 75. Their meals are delivered fully prepared and ready to heat and eat. I
t doesn't get any easier than that, and I love not having to do any cleanup after dinner!


Factor 75's Flavor and Quality
There are around 17 unique meals on their menu each week. You can choose from breakfast or lunch/ dinner options. Factor 75 is excellent about providing nutritional information both on the website and on their packaging, making it very easy to meet your macronutrient goals.
Each meal is clearly marked with individual ingredients and if it's Paleo, Keto, or spicy making it really easy to find what you need and like.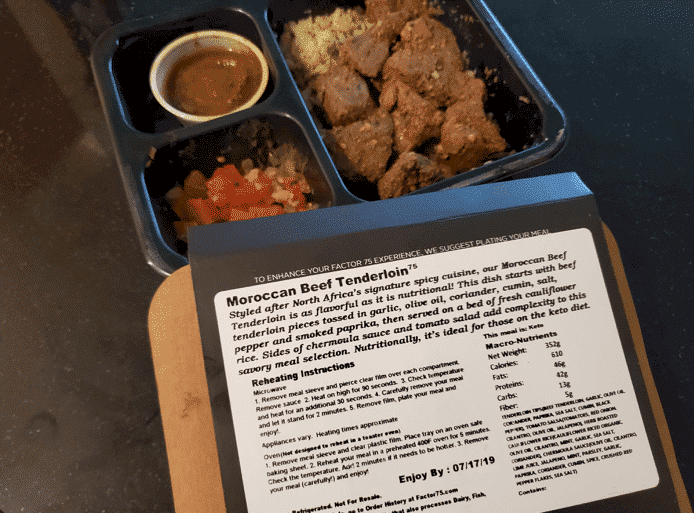 I sampled quite a few different meals, and they were all delicious. Two of my favorites were the Moroccan Beef Tenderloin and Turkey Butternut Lasagna. Both dishes were full of flavor, and the portion sizes were just right for me. I will definitely be trying some of their other menu options very soon!
The Costs
The price of Factor 75 meals is right in line with other meal delivery services.
They also offer bulk discounts, depending on how many meals you order each week. When you really think about, a healthy meal delivery service like Factor 75 could actually save you money over going to the grocery store.
High-quality, organic ingredients aren't cheap, and this way you're only buying what you really need… there's no waste or worry about expensive groceries spoiling in your fridge.
Pricing Breakdown of Factor 75
| | | | | |
| --- | --- | --- | --- | --- |
| 4 Meals /Week | 6 Meals /Week | 8 Meals /Week | 12 Meals /Week | 18 Meals /Week |
| $60 /week | $77 /week | $99 /week | $138 /week | $198 /week |
| $15 /meal | $12.38 /meal | $12.38 /meal | $11.50 /meal | $11 /meal |
My Factor 75 Review
Factor 75 is an excellent option for people like me who want to eat healthily, but don't have a lot of time for shopping or cooking.
They make it easy to meet your nutritional goals by sourcing only high-quality ingredients and providing detailed nutrition information for every meal. The food tastes good enough to be homemade, and I love not having to worry about meal prep or cleaning up!
This service would be excellent for anyone new to a Keto or Paleo diet because they take away all the guesswork by preparing the food with appropriate nutrient and portion requirements in mind. You can even purchase a meal plan as a gift for a friend or family member who's trying to live a healthier lifestyle.
Factor 75 meals are also super convenient for lunch at work if you just want to get away from fast food. I highly recommend Factor 75 to anyone who wants to eat healthy on a tight schedule. This service offers outstanding nutrition and convenience at a fair price.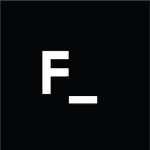 Factor
Factor is a great choice for prepared meals with all their meals being​ free of gluten, soy, hormones, antibiotics, and preservatives. They are very serious about the quality of ingredients with their meats always being pasture-raised and grass-fed and their produce is organic. Factor updates their menu weekly with nutrition facts listed alongside. Some of the meals options offered were vegetarian lasagnas, blackened salmon and a spicy keto bowl with grass-fed beef, jalapenos, and poblano peppers. When you sign up you have the option to choose from 5 meal plans including 4, 6, 8, 12, or 18 meals per week and they do deliver nationwide. The meals are never frozen and delivered in refrigerated boxes which have ice packs and insulation. $40 OFF First 2 weeks | Coupon Code: MBSF40