It's great that we're all trying to eat healthier these days! Unfortunately, today's hectic lifestyle also makes going to the grocery store and meal prep a real challenge. Don't even get me started on meal planning and clean-up!
When I was introduced to the Sun Basket meal delivery service, I knew I had to give it a try. Sun Basket delivers high-quality, organic ingredients right to your door every week. Each meal kit includes pre-portioned ingredients and easy to follow recipe cards for extra convenience.
It almost sounds too good to be true, doesn't it? After all, could a prepackaged meal really taste good? Can they meet the challenges of Paleo, low-carb, gluten-free, and other dietary restrictions?
Let's dive right into my personal experience with the meal delivery service and my Sun Basket review so we can answer all of these questions and more!
An Overview of Sun Basket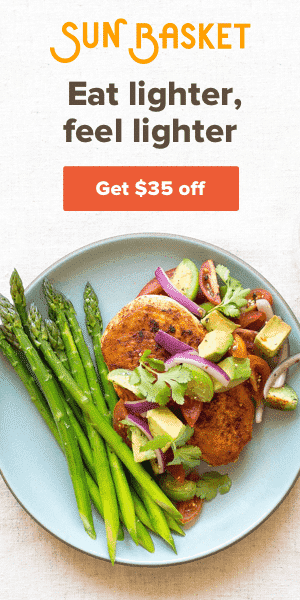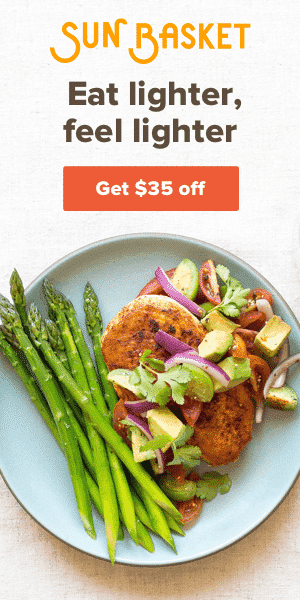 Sun Basket recipes are developed by award-winning Iron Chef Justine Kelly. The company is known for delivering fresh, organic, non-GMO meal kits right to your door on a weekly basis.
They have a reputation for providing delicious recipes that are not only healthy but also easy to prepare. Many people are surprised to find that Sun Basket offers breakfast, lunch, and snacks, in addition to their delicious dinner options.
Sun Basket prides itself on providing the freshest farm to table foods. Each basket includes seasonal organic produce, responsibly raised meats (no antibiotics or hormones), and sustainably sourced, wild-caught seafood.
Sun Basket meals are designed to be prepared in 30 minutes or less. The recipes are easy to follow and each serving has 500-800 calories. The meal kits come with pre-measured ingredients for speedy prep and clean-up and less waste.
I also really appreciate that Sun Basket donates their unused food to those in need, rather than just throwing it away. According to their website, they take around 1000 pounds of food to nearby food banks every week.
Sun Basket Service and Packaging
Sun Basket is a weekly subscription service. Once you sign up, your meals will be delivered by FedEx once per week on your delivery day, Monday through Thursday.
Sun Basket's innovative packaging will keep your food fresh on your doorstep for several hours, so it's ok if you're at work when your package arrives. Even better, everything from the ice pack to the plastic containers is either compostable or recyclable.
If you need to make a change to your Sun Basket delivery or pause your service, it's no problem. Simply call customer service by Wednesday at 3 PM on the week before you need the change. If you want to cancel the service completely, you'll need to call the customer care line.
From the moment my first box arrived, I was in love with Sun Basket's packaging. The outside of the box is covered in pictures of beautiful farms, fishermen, and roadside stands.
When I opened the box, one of my favorite discoveries was the Sun Basket Recipe Book. It's absolutely beautiful and it has all of the recipes for the week, even the ones you didn't order. If you're a home chef who loves to cook chef-inspired, gluten-free, or vegetarian recipes, this is a nice perk!
Below that, your meals are neatly packaged between layers of insulation and ice packs (our ice was still frozen solid even though we didn't open the box until about 7 PM). I was pleasantly surprised to find that the ingredients for each meal were already separated, with the meats frozen solid beneath a cardboard divider.
Sun Basket Menus and Pricing
Sun Basket is a weekly meal delivery service. When you place your first order, you will choose between two menu options- the Classic Menu and the Family Menu.
The Classic Menu gives you the option to choose 2 or 4 servings of two to four different recipes each week. Pricing for this menu starts at $11.99 per serving.
The Family Menu allows you to choose two to four, family-friendly recipes each week. With the family plan, each recipe serves four people. Pricing for this menu option starts at $10.99 per serving.
You'll get the best value with the Family Menu, but you are only able to choose from six kid-friendly recipes. If you want more options, the Classic Menu gives you 18 meal options to choose from each week.
Sun Basket's price point is slightly higher than comparable services like Hello Fresh and Blue Apron. For me, it's worth an extra buck or two per serving to get fresh, organic produce and clean proteins delivered right to my door every week.
It's also nice to know that I'm not wasting food or money since I'm only buying exactly what I need for each recipe. Delivery is free for your first week, but after that, it's $6.99 per order.
>> SPECIAL: $35 Off Your First Order of Sun Basket <<
Sun Basket Meal Plans
Sun Basket has 11 different meal plans to suit just about every taste and dietary need. Those who eat a Paleo, vegetarian, or gluten-free diet will find plenty of delicious options to choose from. You can order all of your meal kits from the same plan, or mix and match if that's your preference.
Here's an overview of each Sun Basket meal plan to give you an idea of what they offer:
Quick & Easy: This plan features delicious, healthy recipes that can be prepared in 20 minutes or less.
Chef's Choice: The chef-inspired recipes in this plan take a little longer to make, but they're more like what you would expect at a nice restaurant. You'll get high-quality, seasonal ingredients and unique, chef-made sauces.
Gluten-Free: Featuring only gluten-free ingredients.
Carb Conscience: This plan features meals with only 25-35 grams of net carbs per serving.
Paleo: High protein, healthy meals with more veggies and fewer carbs for those on a Paleo diet.
Pescatarian: Includes only organic produce and sustainably sourced seafood.
Diabetic Friendly: Diabetes-friendly recipes.
Vegetarian: Includes responsibly sourced dairy, organic eggs, and organic produce.
Vegan: A dairy-free menu featuring organic seasonal produce and plant-based proteins.
Lean & Clean: A menu featuring lean proteins, lots of veggies, and other clean ingredients at about 550 calories per serving.
Mediterranean: Follows the Mediterranean diet philosophies of only eating wild-caught fish and responsibly raised meats. Meals include whole grains, healthy fats, and fresh herbs along with seasonal, organic produce.
(Read about more gluten-free meal delivery options)
As you browse the meal kit options, you will also notice helpful tags like "spicy" and "speedy" to help you narrow down your options even further.
Sun Basket clearly states on their website that meal kits are packed in a facility that handles gluten, wheat, milk, eggs, nuts, soy, and shellfish. If you have serious food allergies or intolerances, this probably isn't the service for you.
Cooking with Sun Basket
All of the meals I tried were easy to prepare, although some did take a little longer than 30 minutes to get them on the table. If you have basic cooking and chopping skills, you'll be able to prepare these easy recipes and get fantastic results.
I loved that the recipes were preportioned. It made prep and clean up super easy. And, it's great that there's no waste since they send exactly what you need for the recipe. There's nothing worse than buying fresh herbs or veggies only to have them go bad in the fridge before you can use them up.
Sun Basket recommends that seafood is cooked within three days and meat with five days of delivery. Greens and mushrooms should also be used with five days for maximum freshness.
They assume that you will have basic pantry ingredients on hands, such as olive oil, salt, and pepper. Some recipes occasionally require butter or wine for cooking, which is not included in the box.
You will also need some basic kitchen equipment to prepare your meals. Be sure you have pots, pans, , a grater/zester, a good knife, and measuring cups. You'll also need a cooking spoon, spatula, and possibly a ladle.
What Are Sun Basket Meals Like?
I was pleasantly surprised to find that Sun Basket recipes are delicious as well as healthy! The portions were perfect for me, and I even had enough leftovers for lunch the next day with some meals.
My husband works out a lot and some of the portions weren't quite filling enough for him. If you're a big guy or you work out a lot, you might want to add an extra side dish to some of the meals.
Although we enjoyed everything we tried from the Chef's Choice menu, the Thai Turkey Lettuce Cups were one of my favorites! They are gluten-free and can be whipped up in about 20 minutes. The meal-kit comes with lemongrass paste and sambal oelek. The flavor was very authentic and not something I could have created on my own.
The Takeaway
My personal experience with Sun Basket was excellent and I wouldn't hesitate to recommend this meal kit delivery service. My free time is limited, but I want to eat delicious food made with organic, non-GMO ingredients. I also really appreciate that the company is both environmentally and community conscious.
Sun Basket is great for anyone like me who wants to take the work out of healthy meal planning. If you enjoy a home-cooked meal but hate going to the grocery store, prepping, and clean-up you will love Sun Basket!
There's nothing like coming home from a long day to find a box of organic produce and other delicious clean ingredients right at your front door. The combination of convenience and healthy, delicious food makes Sun Basket the perfect choice for busy people who want to live a healthier lifestyle.


Sun Basket
Sun Basket offers a number of Paleo and gluten-free meal delivery options. Every recipe comes with a variety of fresh produce that is organic and non-GMO. They also have grass-fed, antibiotic- and hormone-free meats. All the recipes are created by San Francisco chef Justine Kelly.
When you sign up with Sun Basket you can choose from their classic or family menu. The family menu comes with two or four meals per week and includes kid-friendly options. The classic menu comes with three recipes per week.
The hand-selected ingredients are delivered weekly in an insulated box. The packaging is 100 percent recyclable and compostable. The menu offers things like braised chicken and artichokes and Thai turkey salad with cabbage, basil, and mint.