Most people will agree that there is nothing like a home-cooked meal. However, most people will also agree that they simply don't have time to do the planning, shopping, and cooking necessary to make one.

>> SPECIAL:
$35 Off Your First Order of Sun Basket
<<
If you fall into this category, a meal delivery service could be a great option for you. Every week, they will send you meal kits, the instructions and all the ingredients you need to prepare several homemade meals throughout the week.
Most services offer a wide range of meal options that have easy-to-follow recipes that generally take 30 minutes or less. And increasingly, companies are beginning to offer Paleo, gluten-free, and vegetarian options to pick from. It's kind of like ordering take-out but without the guilt or the stomach ache that with it.
Of course, the big question is, do any of these meal kits actually taste good? After all, a flavorful, pre-prepped gluten-free dinner that can be made in 30 minutes or fewer sounds just a little too good to be true.
This was the question I sought to answer when I was introduced to Sun Basket, which I'll be outlining in this review of Sun Basket.
How Sun Basket Works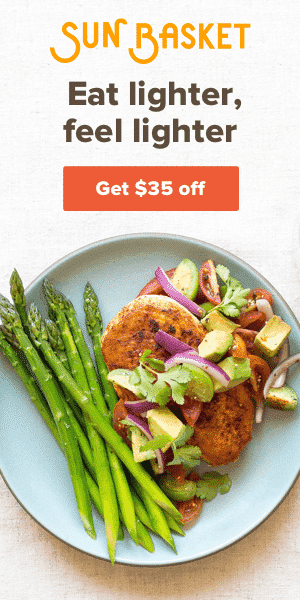 Sun Basket was founded in 2014 and it currently delivers to most areas in the U.S. with the exception of AK, HI, MT, and parts of NM. Sun Basket is committed to only delivering fresh ingredients so they won't deliver to states that are located too far from a nearby facility.
They have two menu options, the Classic Menu, and the Family Menu. They also offer a Rise and Shine option which includes two dinners and two breakfast options.
For the Classic Menu, you will choose a weekly plan with enough ingredients for three meal kits for either two or four people. Pricing for the Sun Basket Classic Menu is $11.49 per meal.
If you choose the Family Menu, you will choose whether you want two, three, or four meal kits per week for four people. Pricing for the Sun Basket Family Menu is a little bit cheaper on this plan at just $9.99 per meal. Both plans include a delivery fee of $5.99 per week.
Sun Basket delivers organic, non-GMO produce and antibiotic and hormone-free meats. Their nutritionist-approved recipes are developed by award-winning chef Justine Kelly. They are committed to giving back to the community and donate any food that isn't shipped to local food banks.
You can skip or cancel your order free of charge anytime before the weekly cutoff on Thursday at 12 p.m. PST/3 p.m. ET. And Sun Basket offers a seven-day money back guarantee if you don't love what you ordered.  
Meals & Delivery
When I sat down to order my meals I was pleasantly surprised by the wide variety of options to choose from. You can specify if you want vegetarian, Paleo, or gluten-free meals and the recipes will always alert you to any potential allergens. The meals even have helpful tags like "spicy", "dairy-free", and "soy free".
However, there are no vegan options so if you are on a completely plant-based diet, this meal kit provider is probably not the best option for you. If you don't have any specific food restrictions, you have the option to choose the Chef's Choice.
Sun Basket delivers their meals in insulated recyclable packaging which is a relief because the meals do come with a lot of packaging. I was pleasantly surprised by how well everything was packed and organized upon delivery.
All of the ingredients are organized and packaged separately for each dish. This saves you from having to dig through the entire box trying to figure out which ingredient goes with what meal. It may sound like a no-brainer but not all meal delivery services provide this extra convenience.
Sun Basket is actually the only meal delivery service that offers breakfast options, which was a nice perk. The meals come with everything you need although it is assumed that you have a few kitchen staples such as salt, pepper, and olive oil and basic cooking supplies.
Final Thoughts
I want to point out that when you sign up for Sun Basket you are signing up for a weekly subscription. Of course, you can cancel or modify your orders but there is a cutoff so this is something you will just have to stay on top of.
And if you choose to cancel your deliveries, you won't be able to do this online. You will have to call customer service and talk to a representative before you can cancel your subscription.
As far as meal delivery service options go, this meal kit delivery service is not the cheapest. You could probably save a couple of dollars per meal by going with one of their competitors. However, I would happily pay more for a Sun Basket meal for several reasons.  
First of all, I appreciate that Sun Basket is one of the only meal delivery services that serves USDA-certified organic and non-GMO ingredients. Convenience is nice but knowing that I was eating healthy, organic ingredients was the best part of all. I also support their community involvement and their eco-friendly packaging.
Overall, my experience with Sun Basket meals was excellent. There really is nothing quite like going to your door and finding a box full of ingredients for dinner already washed, prepped, and ready to go. The meals really are easy to make and everything I ordered was delicious.
So if you are a health conscious individual with limited free time to do meal prep or darken the aisles of a grocery store, I hope you enjoyed this Sun Basket reviews & I highly recommend that you give Sun Basket's meal kits a try!

Sun Basket
Sun Basket offers a number of Paleo and gluten-free meal delivery options. Every recipe comes with a variety of fresh produce that is organic and non-GMO. They also have grass-fed, antibiotic- and hormone-free meats. All the recipes are created by San Francisco chef Justine Kelly.
When you sign up with Sun Basket you can choose from their classic or family menu. The family menu comes with two or four meals per week and includes kid-friendly options. The classic menu comes with three recipes per week.
The hand-selected ingredients are delivered weekly in an insulated box. The packaging is 100 percent recyclable and compostable. The menu offers things like braised chicken and artichokes and Thai turkey salad with cabbage, basil, and mint.