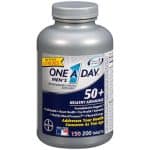 One A Day Men's 50+
My Thoughts
One A Day Men's 50+ is another affordable option worth considering. One A Day has been providing specially formulated vitamins for over 75 years. While their Men's 50+ formula can't be customized to meet your specific needs, but it has been created with the unique nutritional needs of men over 50 in mind.
Although this isn't the most complete formula out there, it does include the antioxidants needed for cellular and memory support. They've also included plenty of B-vitamins for energy. It's an age specific formula that's been specifically designed to support eye and heart health, too. Critical nutrients like Vitamin K and Zinc are included to help keep the immune system strong.
One A Day Men's 50+ is meant to be a complete multivitamin formula, so you only need to take one pill each day. This product can be purchased in a 175-count bottle that will last several months. It's a very basic, affordable, and convenient option for men in their 50s who simply want to fill in a few vital nutritional gaps in their diet.
Pros
Doctor Recommended
Affordable
1 pill/day
Cons
Confusing dosage count
Potency of vitamins are questionable