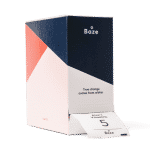 Baze
Baze provides the only personalized supplement packs actually based on your nutrient levels. You complete a quick and painless blood nutrient test, delivered right to your door, and fill out a questionnaire. Then they send you convenient monthly supplement packs to help you fill in your nutrient gaps. Through re-testing, your supplements adjust with you as your needs change.
Why we love Baze's approach:
It's no-nonsense. No more guesswork, trial and error, and wasted money on unnecessary pills.
A painless blood test developed by scientists at MIT shows what nutrients you truly need.
Your test results, actionable insights, and supplement recommendations are compiled into an easy-to-read report made just for you.
You get 1:1 support from Baze's Registered Dietitians.
Their supplements are made in the USA and tested according to the FDA's Current Good Manufacturing Practices meaning they're highly effective and safe.
Vegan options are available and all supplements are free from GMOs, gluten, lactose, and artificial dyes.
COUPON: Get 50% off your first order with Baze when you use this link!