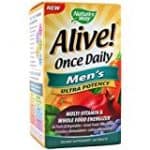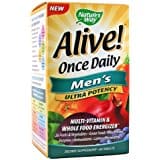 Alive! Once Daily Men's
My Thoughts
Alive has an excellent reputation for providing high-potency, nutritionally diverse multi-vitamins. Their Once Daily Men's 50+ formula contains 100% or more of the daily recommended value of 19 vitamins and minerals. This is a balanced formula that meets many of the nutritional requirements specific to men over 50.
One of the most unique things about the Alive! Once Daily Men's 50+ formula is that they've included a food-based Orchard Fruits, Daily Greens, and Garden Veggies Blend to provide trace nutrients and boost immunity. The product is also rich in B vitamins for increased energy and better metabolism. Essential antioxidants are also provided to support brain and cellular health. They've also included lycopene and saw palmetto for prostate support.
Alive! Once Daily Men's 50+ is an extremely affordable option. Although it can't be customized to meet individual needs, this formula offers more nutrients than most over-the-counter products, making it an excellent choice for someone on a tight budget. There are 60 tablets in each bottle, so you'll need to repurchase every two months.
Pros
Lab tested potency is excellent
1 caplet per day
Affordable
Cons
Expires quickly
Not as reputable as many other brands