"Couples who sweat together, stay together".
If both you and your significant other or spouse are looking to be healthier, or just maintain an active lifestyle, what better way to knock two birds out with one stone than to incorporate something active into your date nights? Exercising can have both a physical and an emotional impact on the two of you . At the end of the workout or date, you'll feel more cooperative, more in sync with the other, as well as the joy from having a shared passion. Top that off with a hefty dose of endorphins, and you have a recipe for success. Now, if your idea of romantic isn't running bleachers with your special someone, fear not, below are several ideas that aren't as grueling and sweat-inducing as that.
Volunteer – Whether it's a community beautification project, or volunteering with the local Habitat for Humanity chapter, it's bound to get your physical and emotional heart pumping. Hauling dirt, trees, and wood is no easy feat. This date idea is really a triple threat, since you are also contributing to the greater good of your community.
Indulge in Table Tennis – Ping pong players burn anywhere from 200-350 calories per hour. It's a quick game that's gentle on your body, which is great if you have fragile joints. It's also a great game for double dates and group dates, since you can play doubles against another couple. An added bonus: It helps with your hand-eye coordination, as well as brain development since there's a lot of strategy and planning involved.
Go Dancing – Whether it's swing, salsa, or Zumba, break out those moves!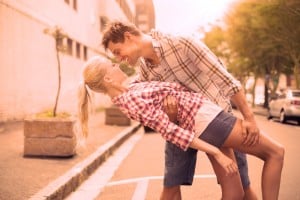 Dancing can burn about 300-400 calories an hour, even more if you're really picking up the pace. There's so many different styles to try out, and having your significant spin and dip you around the room might rekindle the flames. An added bonus: have fun with your wardrobe and dress up! Pick a skirt that will swish and swirl around your legs if you're going salsa dancing, or don your best Mad Men inspired wardrobe when you go Lindy Hopping.
Go Laser Tagging – Laser Tag is the closest thing to play many of us get the older we get! It's a lot of fun and easily forces you to run, job, and dodge, escalating your heart rate in a way that's more interactive than jogging on a treadmill. Prices are usually very affordable, and if you can find a group of friends to go with you and your significant better, it's even better. Go ahead, bring your inner-high schooler back out and burn up to 700 calories in the process.
Sign up for a Race – Be it the Zombie 5K, a half marathon, or for you ambitious couples out there, a full marathon, sign up for a race with your significant other.  It'll force both of you to work together towards a common goal, and the early morning workouts are always a little easier if you have a partner trekking along right there next to you. Come race day, you will help motivate each other, and it'll strengthen your relationship. There's also the added bonus of seeing both of your bodies get fitter in the process.
Go Skating – Go ice skating in the winter or roller skating in the summer.  This is a f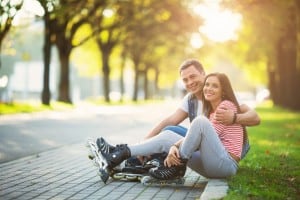 un, active date idea that will give your legs a good workout. It will also help work your core, as you have to maintain an upright position the entire time. If you've never been skating before, go into it with an open mind. You and your significant other are sure to erupt into several laughs and giggles as you guys tumble and hold onto each other for (literal) support. This will burn anywhere between 300-500 calories per hour. Don't forget helmets if you are going roller skating!